State Awards Cleantech San Diego $5 Million Grant
Wednesday, April 13, 2016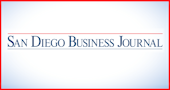 Local industry group Cleantech San Diego has been awarded a $5 million grant to grow the region's energy innovation industry, the company announced Wednesday in an email to its members.
The grant, which comes from the California Energy Commission, will be distributed over the next five years, the memo said. It is the largest grant Cleantech San Diego has received in its nine-year history.
The award will be used to develop the San Diego Regional Energy Innovation Cluster, a partnership between nine regional organizations that will connect entrepreneurs to facilities, training and resources to bring energy tech to market. The partnership will include Cleantech San Diego, CONNECT, San Diego Venture Group, Imperial Valley Economic Development Corp., Inland Empire Economic Partnership, Center for Sustainable Energy, San Diego State University, UC San Diego, and University of San Diego.
The program will provide entrepreneurs with supportive services, including: mentoring, training, and education; accelerator/incubator services; access to capital through networking forums; facilities for proof-of-concept/technology validation; advisory support, market intelligence, and other services to advance energy innovations to the market.
Entrepreneurs interested in applying and mentors interested in getting involved can visit the San Diego Regional Energy Innovation Cluster website for more information.