San Diego, Tijuana Mayors to Welcome World Leaders to San Diego Region
Wednesday, April 13, 2016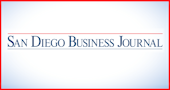 San Diego Mayor Kevin L. Falcouner and Tijuana Mayor Jorge Astiazarán will welcome more than 50 world leaders to San Diego on April 14 for an innovation and investment tour.
The local tour kicks off with a welcome ceremony for leaders in attendance from Brazil, Mexico, Canada, South Korea and other countries from across the globe, according to a release from the San Diego Regional Economic Development Corp. The tour is meant to promote innovation, trade and jobs within the San Diego-Tijuana Mega Region, according to the news release.
Organized by the World Trade Center San Diego, an affiliate of the San Diego Regional Economic Development Corp., the U.S. Department of Commerce and the Organization of American States, the tour – called the Fifth Americas Competitiveness Exchange (ACE V) – will visit iboss Cybersecurity, Qualcomm Inc., Scripps Institution of Oceanography and other institutions and businesses.
The U.S. Department of Commerce and participating countries will sign a memorandum of cooperation to support trade and investment partnerships, job creation and elimination of barriers to commerce through initiatives. At the welcome ceremony, the ceremonial signing will be between Ambassador Neil Parsan and Assistant Secretary Jay Williams.