PROPERTY: OLD STADIUM WOULD BE NEW SDSU SITE
Developers Propose A Big College Try
Originally published April 7, 2016 at 12:16 p.m., updated April 7, 2016 at 12:16 p.m.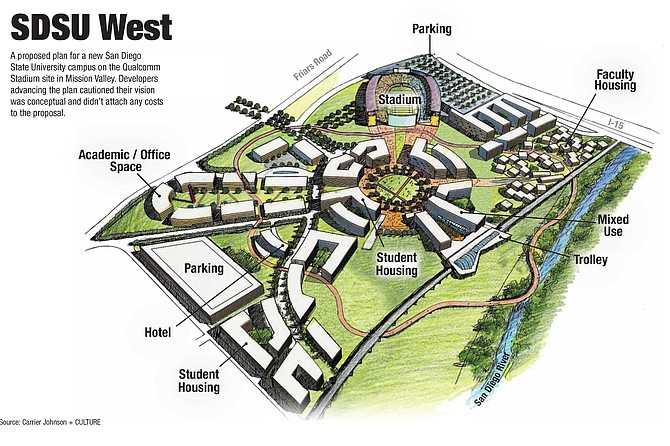 San Diego — San Diego State University, along with an ad-hoc group of developers and university boosters, pushed last week for serious consideration of a redeveloped Qualcomm Stadium site that could become a western campus for SDSU, including a smaller stadium better suited for Aztec crowds.
The vision for Mission Valley, complete with research facilities that could be shared with private companies and more than 60 acres of open space, is a long-term investment that would have a far greater economic impact than turning the land into more apartments and retail, the developers said.
JMI Realty CEO John Kratzer said April 5 he had been tasked by former
Padres owner and JMI leader John Moores with putting together a preliminary proposal for the Mission Valley space. Moores is a major SDSU donor and longtime proponent of the school moving into Mission Valley if the
Chargers abandon it for downtown or Los Angeles.
JMI's plan includes student and faculty housing, academic space, a San Diego River conservancy and a stadium with 30,000 to 40,000 seats. The developers were mostly focused on how SDSU could use the land, proposing to call it "SDSU West," but said the University of
California, San Diego could also be involved.
SDSU President Elliot Hirshman said in a blog post April 5 he was not supporting any specific proposal or developer, but called for a redevelopment with many of the same features included in JMI's plan. The prospect of the Chargers leaving Qualcomm Stadium presented a chance for a much-needed SDSU expansion that could enhance the school's standing over the next 50 years, he said. It was his first substantive comment on a possible expansion since the idea was raised more than a year ago.
"The San Diego Chargers' recent decision to leave Mission Valley and pursue a downtown stadium creates this critical opportunity," Hirshman wrote.
The Group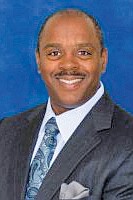 Kratzer said the Chargers' renewed bid for a downtown stadium made him and other developers more comfortable speaking publicly about their plan, which had been discussed privately for months.
The group included Cisterra Development chairman Steven Black, Carrier Johnson + CULTURE managing principal Vincent Mudd, Cruzan founding partner Dennis Cruzan and Moores' senior adviser and former state legislator Steve Peace.
The developers declined to discuss possible costs or financing options for the 166-acre redevelopment, demurring that the plan was mostly conceptual. The main intent was to start a dialogue about how best to replace Qualcomm's sprawling parking lot and concrete stadium with something that could benefit the city's major research universities, they said.
The proposal includes 28 acres of parkland and 39 acres of open space. Most of the buildings would be student or faculty housing, though there are also areas for mixed-use retail, academic buildings, office space, an area for campus concerts and a roughly 35,000-seat stadium that could be used for both the Aztecs and a possible Major League Soccer team.
"We are taking down a stadium but we are putting back the heartbeat of a university in its place," Mudd said.
The Great Unknowns
Kratzer said none of the developers had any aspirations in being a part of the project and that JMI did not plan to acquire an MLS team. And while JMI's proposal requires demolishing Qualcomm, he said alternatives were possible if the Chargers doubled back and decided to stay in Mission Valley.
Hirshman noted that almost none of the details of what could happen in Mission Valley were settled.
"Who would own the redeveloped site? Who would be the development partners? How would the redevelopment be financed?" Hirshman wrote. "The blunt answer to these questions at this moment is that we don't know."
Not only is SDSU cramped for building space on its current campus, but it also may be looking for a stadium of its own. SDSU averages about 32,000 spectators per game, which is less than half of Qualcomm's capacity and Hirshman suggested a smaller stadium would be a better fit for Aztec crowds.
"We have a winning football program but we have a loser stadium," Cruzan said. "That's not the top of our list, but that's one of the important reasons we're involved."
City and Citizen Support
While the developers didn't discuss the logistics of how the plan could be realized, Peace stressed that a vital first step would be having San Diego, which owns the land, donate the parcel to SDSU or UCSD. He also called on SDSU alums and the real estate community to publicly support the plan, insulating local politicians from "narrow-minded" critics who might call for the city to demand money for the land.
"We're all going to write checks, but our checks are going to go a lot further if those elected officials simply do the right thing and give this property to the university." Peace said.
Any plans for the Mission Valley site should include setting aside land for a community river park, Mayor Kevin
Faulconer said in a statement. He declined to specifically comment on whether the city might donate the land or if he favored educational development over possible commercial uses.
"This land is owned by the city so public input will play a significant role for any future development beyond stadium use," he said.
Councilman Scott Sherman, whose district includes Mission Valley, said he was interested in JMI's plan, but said it was "way too premature" to talk about Qualcomm's redevelopment.
State Sen. Marty Block, one of the first to publicly discuss using the site for SDSU's expansion, has said the land would be more valuable for the city under university control than with commercial redevelopment given the possible boon to academic research. Commercial uses would also have to overcome additional environmental hurdles in congested Mission Valley.
He said JMI's plan had serious potential and wants his education financing subcommittee to hold a hearing in San Diego this summer on how SDSU could use the Qualcomm site.
Block, who bowed out of his re-election race after a challenge from former Assembly Speaker Toni Atkins, said there were other senators who would take up the issue once he left office.
"My colleagues in Sacramento know about my interest," Block said. "Frankly, that's one reason I want to do a hearing this summer, so it gets on the record in the Legislature."