TECH: VARIED BUSINESSES LOOK TO KEEP TALENT IN S.D.
Local Cos. Part of Informal Regional Effort to Hire Qualcomm Layoffs
Thursday, September 24, 2015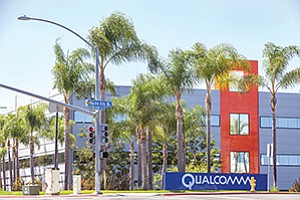 San Diego — Making good on a promise to investors that it would cut staff, Qualcomm Inc. gave 60-day layoff notices to more than 1,300 full-time employees in San Diego and to an unspecified number in other U.S. offices earlier this month.
The business said in July that it planned to cut 15 percent of its worldwide staff — or about 4,500 people — as profits in the chip space decline and as it searches for higher-growth businesses. Qualcomm said it wanted to reduce costs by $1.1 billion annually by September 2016.
In response, a handful of local technology companies and the San Diego Regional Economic Development Corp. have come together to keep a critical mass of tech talent in the region.
Cubic Corp., iboss Inc., Illumina and a dozen other companies agreed to consider process quickly, according to a statement from the nonprofit EDC.
One executive said his company heard from at least one Qualcomm employee who had not received a pink slip but saw "the writing on the wall."
The Local Cut
Nov. 20 will be the last day at work for 1,314 local full-time employees, or about 8.5 percent of Qualcomm's (Nasdaq: QCOM) local workforce. It was unclear how many part-time and temporary San Diego staff will lose jobs this fall. The corporation has roughly 15,000 full-time, part-time and temporary employees in the San Diego region.
Sixty-day layoff notices went out in sites as widespread as San Francisco and Boulder, Colo.
Some 65 employees will be cut from Qualcomm's office in Andover, Mass., according to the Boston Business Journal. The Orlando Sentinel reported Qualcomm's office in that Florida city will close, and that 20 people there will lose their jobs, citing an unnamed source.
Qualcomm confirmed Sept. 17 that it was contacting staff about layoffs.
"As part of the Strategic Realignment Plan announced in July, we announced that Qualcomm would reduce full-time headcount and have a significant reduction of our temporary workforce," the company said in a statement. "We are in the process of notifying employees. We haven't provided a more specific breakdown.
"We remain committed to our strategic realignment and cost reduction plans. We underwent a thorough assessment to determine which roles and skillsets will be needed to best support the future business. These decisions were driven by the near- and long-term strategic objectives for the business under our Strategic Realignment Plan.
"The company is providing a supportive severance package, outplacement resources and career transition services."
Qualcomm wants to make investments in other technologies with growth potential, such as automotive connectivity and the Internet of Things.
Lateral Moves
As Qualcomm cuts jobs, other companies are stepping up to keep talent in San Diego. Executives are acting on an informal agreement to help each other out, said Darryl Albertson, vice president of human resources at Cubic Corp.
Albertson said the region's economic development office contacted Cubic in July to see whether it could help find places for laid-off employees.
Cubic needs software engineers, systems engineers, test engineers, mechanical engineers and electrical engineers for its businesses producing hardware and software for military training and transit systems.
It also needs business office administrators. Jobs are not necessarily in San Diego. Though based in Kearny Mesa, only 1,000 people in Cubic's 8,300-member workforce are in its headquarters city.
In certain cases, relocation assistance might be available, Albertson said.
Peter Martini, co-founder and president of San Diego-based iboss
Cybersecurity, said his company plans to double its workforce of 150 in the next 18 months.
Just as iboss picked up employees when Websense left Sorrento Valley for Texas, Martini sees another chance to pick up employees with Qualcomm's decision.
Iboss hasn't hired anyone yet, but some candidates are on their second or third interviews, Martini said Sept. 23.
Since Qualcomm salaries easily run into six figures, some might question whether iboss — or anyone else — can afford to hire its alumni.
"We have to pay Silicon Valley wages," Martini said, adding that his company is paying 30 percent above market.
An Opportunity?
Former Qualcomm executive Jeff Belk wrote an essay saying that Qualcomm layoffs will definitely hurt, but they might, with time, give employees and San Diego something of value. Some laid off employees might decide they want to form startup companies.
Belk, now managing director of ICT168 Venture Capital LLC, argued that Qualcomm came about because founder Irwin M. Jacobs found his current job unsatisfying, and wanted to do something new. Qualcomm may have never existed if Jacobs' employer had made things comfortable for him, Belk said. His essay appears on the Xconomy website.