Qualcomm to Lay Off 1,314 Employees in San Diego
Thursday, September 17, 2015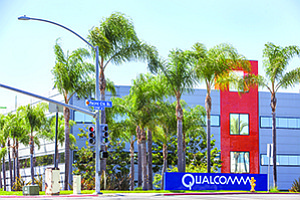 Qualcomm Inc. plans to lay off 1,314 members of its San Diego County staff, beginning around Nov. 20, according to public documents released on Sept. 17.
That is about 10 percent of the roughly 13,000 people that Qualcomm (Nasdaq: QCOM) employs in the region. The chip maker announced plans in July to cut about 15 percent of its worldwide staff in an effort to become more profitable.
The figure was provided to the California Employment Development Department and its local affiliate, the San Diego Workforce Partnership.
Qualcomm confirmed Sept. 17 that it was in the process of notifying employees about the layoffs it first announced on July 22. The corporation announced plans to cut 15 percent of its staff, or about 4,500 people globally.
With profits declining, the chip maker said it wanted to reduce costs by $1.1 billion annually by September 2016.
Qualcomm issued the following statement on Sept. 17:
"As part of the Strategic Realignment Plan announced in July, we announced that Qualcomm would reduce full-time headcount and have a significant reduction of our temporary workforce. We are in the process of notifying employees. We haven't provided a more specific breakdown.
"We remain committed to our strategic realignment and cost reduction plans. We underwent a thorough assessment to determine which roles and skill sets will be needed to best support the future business. These decisions were driven by the near- and long-term strategic objectives for the business under our Strategic Realignment Plan.
"The company is providing a supportive severance package, outplacement resources and career transition services."