BREWING: THRIVING S.D. SCENE ADAPTS TO DEMANDS, CHALLENGES
THE NEXT ROUND
Thursday, September 17, 2015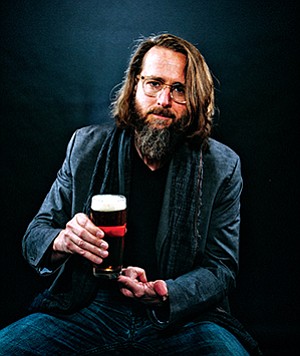 San Diego County's already thriving craft beer industry has recently seen a steady flow of big corporate changeovers, as many of the region's more than 100 brewers take on the challenges of maintaining growth in a maturing industry that is only getting more competitive.
In just the past two weeks, the region's largest brewer, Stone Brewing Co. of Escondido, announced that co-founder and CEO Greg Koch will transition to a new role of executive chairman, overseeing long-term planning as the company launches a selection process for its next chief executive to head daily operations.
Mira Mesa-based Green Flash Brewing Co., the fourth-biggest local beer maker, appointed its first-ever chief operating officer, Chris Ross, a 25-year technology and consumer electronics industry veteran with past executive stints at companies including Qualcomm Inc. and Novatel Wireless Inc.
Miller Time at Saint Archer
Also, Miramar's Saint Archer Brewing Co., part of a large contingent of smaller but growing local brewers, announced that it is being acquired by brewing giant MillerCoors LLC, for an undisclosed price. Saint Archer officials said the company will continue to operate as an independent entity within MillerCoors' craft beer division, known as Tenth and Blake.
All of this happened just before the nation's largest beer maker, Anheuser-Busch InBev, announced that it plans to pursue a takeover of MillerCoors' global parent company, SABMiller, in a merger that would create the biggest brewer in history — with a total market value estimated by analysts at $276 billion and annual sales of $55 billion.
Such a mega-merger likely faces significant regulatory hurdles in the U.S. and other countries. But the proposal is seen by observers as a sign of increasing concern among the big beer companies about the rising global popularity of craft beer, especially among younger consumers.
For the larger local brewers, responding to the ever-changing climate means making necessary organizational and infrastructure changes to scale their operations to meet spreading national and global demand for their products.
Executive Decisions
"This is a natural progression once companies reach our size and complexity," Koch said in a statement announcing Stone Brewing's transition. "I see this as an opportunity to focus on future direction and projects for Stone Brewing. Most importantly, we are looking for someone who can contribute to our executive team and understands our vision for craft beer."
Koch will retain daily oversight duties until the next CEO is on board, as the co-founder also oversees preparations for new brewing and restaurant facilities in Berlin and Richmond,Va., set to begin operations in early 2016.
The nation's ninth-largest craft brewer based on sales volume, Stone is on track to surpass 300,000 barrels in production by year's end, up from more than 287,000 in 2014. Earlier this year, it opened a 127,000-square-foot distribution and cold-storage facility in Vista, now among several brewery, restaurant and taproom sites it operates throughout San Diego County and elsewhere in Southern California, employing more than 1,100.
Stone Brewing's chief operating officer, Pat Tiernan, said in an interview that aside from a passion for craft beer, there will be no preset resume requirements for the company's next CEO, aside from extensive experience in areas including manufacturing, distribution and personnel management.
"It's going to be someone with lots of necessary skillsets," Tiernan said. "It won't necessarily be someone who's been in the beer industry."
That turned out to be the case with Ross, Green Flash Brewing's new chief operating officer. Co-founder and CEO Mike Hinkley said he began thinking long and hard about a year ago as to whether he indeed needed a COO to handle growth-related oversight.
In the ensuing months, Green Flash acquired East County's Alpine Beer Co. and announced plans for a new brewery set to open early next year in Virginia Beach, Va. The company's total workforce has grown in the past five years from 20 to 250, and its sales team in the past 18 months grew from 15 to 30, with the brewer on track to reach production of 100,000 barrels in this year's fourth quarter.
After deciding that the COO hire was now warranted, Hinkley recently approached his first and only candidate for the job — a long-time friend and also his former San Diego neighbor from 20 years ago, when Ross was a production executive at Qualcomm.
He has since also worked at nonbeer companies including Novatel, Intrinsyc Technologies Corp. and Ericsson Wireless Communications. Hinkley said the new COO will help him navigate a host of upcoming logistical challenges while also mentoring a growing and relatively young workforce.
"With all of this competition shaping up, it's becoming crucial for us to improve our game," Hinkley said.
Tapping New Resources
Other growing local brewers are similarly gearing up in response. Miramar's AleSmith Brewing Co. is preparing to open a 25,000-square-foot brewery and tasting facility in early October, and continues to beef up its local and national sales teams as its distribution has expanded to 20 states, along with Japan and Denmark.
"We've recently hired for sales positions that we never even had before," said AleSmith CEO Peter Zien, whose company is on track to nearly double its current production by next year, to more than 44,000 barrels.
Jerry Varga, an audit partner in the Mission Valley office of consulting firm McGladrey LLP, said he would not be surprised to see more local beer makers in coming months make significant executive, infrastructure and corporate strategy changes, such as merging or partnering with other companies.
For most firms, the reaction to a shifting business climate will hinge on the priorities of the original founders, who generally value independence and autonomy in the craft beer industry.
"It depends on how you are looking to grow," said Varga, whose company's nationwide clients include several craft brewers. "Not everyone is looking to be the biggest, and some companies are content to stay where they are in terms of size."
Flow of Capital
For some craft brewers, said Varga and other observers, being acquired by a larger firm can be an effective way to bring in crucial capital needed to maintain or grow operations, provided independence can also be retained. This has been the case in several instances nationwide where macro-brewers acquired smaller craft brewers, with the Saint Archer-MillerCoors deal among the most recent examples.
Saint Archer founder and President Josh Landan said in a statement that the deal with MillerCoors, set to close in October, will allow his company to operate as a separate entity within Tenth and Blake, which also includes other craft brands previously acquired by MillerCoors. At the same time, the changeover will give Saint Archer "more resources to innovate and grow," with the company on pace to sell 35,000 barrels in 2015, more than double its 2014 tally.
Companies that don't respond by making management shifts will likely be more focused on reconfiguring or expanding their physical facilities in order to ramp up production to meet rising demand.
Todd Davis, senior vice president in the Carlsbad office of brokerage company Cushman & Wakefield, said those trends are especially evident in the vibrant North County craft beer scene. Brewers investing in significant reconfigurations of existing plants have recently included Carlsbad's Pizza Port Brewing, San Marcos' The Lost Abbey and Vista's Mother Earth Brew Co.
Several others have expanded to new sites, most recently including Vista-based Belching Beaver Brewery's purchase of a 24,000-square-foot industrial building in Oceanside, where it plans to operate a five-stage, 30-barrel production system. Brokerage firm Lee & Associates, which handled the $2.3 million deal, said the facility would allow Belching Beaver to raise annual production from its current 12,000 to potentially more than 60,000 barrels.
As retail and industrial space becomes tight, other brewers could be checking out sites in Oceanside and other parts of North County. "A lot of companies are sort of kicking the tires right now," Davis said.