Illumina, Memorial Sloan Kettering Announce Research Collaboration
Wednesday, September 16, 2015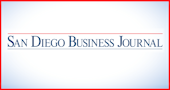 San Diego's Ilumina Inc. announced a research collaboration with Memorial Sloan Kettering aimed at developing new strategies to diagnose and monitor cancer.
These strategies are based on the measurement of circulating tumor DNA (ctDNA), also referred to as a liquid biopsy.
Traditional biopsies for acquiring tumor DNA are typically invasive and risky and are often not possible. Additionally, single biopsies may not be able to measure the variety that is often present in tumors. But scientists have discovered that dying tumor cells release small pieces of their DNA into the bloodstream. These pieces are called cell-free circulating tumor DNA and can be detected in a blood sample via DNA sequencing.
As global leaders in cancer care and in next-generation sequencing, Memorial Sloan Kettering and Illumina will conduct research trials designed to answer biological and clinical questions about ctDNA in multiple cancer types. MSK will collect samples, and Illumina will apply its sequencing technology to detect ctDNA in those samples. The program will work to validate a ctDNA assay to demonstrate correlation between ctDNA signal and cancer burden.