August Home Sales, Median Price Up From a Year Ago
Wednesday, September 16, 2015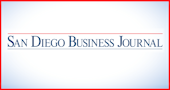 The number of homes sold in San Diego County jumped 11.4 percent in August from the year before, to 3,764 houses, as home sales across Southern California continued their seven-month stretch of year-over-year growth, according to data from CoreLogic.
The median home price in San Diego gained 4.5 percent, to $465,000. The wider region, including Los Angeles, Orange, Riverside, San Bernardino and Ventura counties, saw similar growth, with a median price of $438,000, an increase of 4.3 percent from last year.
But while home sales are picking up from last year, up 8 percent across Southern California, the region saw a 12 percent drop from July. CoreLogic said the decline was not serious, given June and July sales were the highest in the region for nine years. August's 21,352 sales were only a two-year high.
"This month-to-month sales decline could be a reflection of a tightening inventory of homes for sale or the impact rising prices have had on affordability," said Andrew LePage, a CoreLogic research analyst. "But this is only one month, and it follows two months that had the highest home sales since August 2006."