New Cadillacs to Feature Maxwell Technologies System
Tuesday, September 15, 2015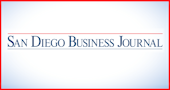 Many of next year's Cadillac sedans and coupes will include a Maxwell Technologies-powered start-stop system, the San Diego manufacturer said Tuesday, driving the company's stock up 17 percent to close at $6.03.
Maxwell makes power-storing ultracapacitors that hold energy using an electric field instead of the chemical reactions used in conventional batteries. Maxwell said its ultracapacitors will be part of Continental Automotive Systems' voltage stabilization system, a standard feature in some 2016 Cadillac sedans and coupes.

The stabilization feature is part of General Motor's latest new start-stop system, which shuts off a car's engine when a driver stops the car. The system, which is battery based, provides the surge needed to quickly restart the car's engine. Maxwell said its ultracapacitors will be used as an additional power source to stabilize the electrical system during periods of high power demand.
"Performance has always been important to car owners, and Maxwell's ultracapacitors enable consumers to get the fuel economy they desire without limiting their cars' performance," Maxwell CEO Franz Fink said. "GM's selection of Continental's Maxwell-powered (voltage stabilization system) is a further affirmation of our ultracapacitor capability for varying applications as the automotive industry continues down its path of vehicle electrification."