FINANCE: CREDIT UNIONS SAY EASING LOAN REGULATIONS WILL HELP SMALL BUSINESSES
Seeking a Different Slice of the Commercial Lending Pie
Friday, September 4, 2015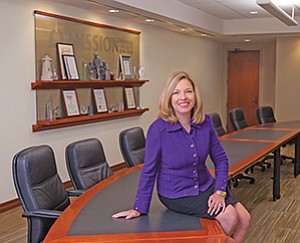 After the credit union industry's regulator in June proposed rolling back some of its rules for business lending, bankers wrote hundreds of letters warning that loosening the restrictions could imperil the economy.
The National Credit Union Administration closed its comment period Aug. 31, but in that time community bankers from across the country claimed that commercial lending, which has historically been dominated by banks, should remain their purview. At least five credit unions have failed since 2010 because of poorly managed business loan programs, the bankers said.
Credit unions currently can only lend up to 12.25 percent of their total assets in business loans. Under the proposed rules, that cap would stay in place, but credit unions would be allowed to use only business assets as collateral, instead of requiring personal assets, as well. The changes would also remove explicit loan-to-value limits and lift restrictions on construction and development lending.
Bad Loans
"The savings and loan debacle of the 1980s is the perfect example of the product that was realized when inexperienced lenders expanded into the commercial real estate market place," wrote James R. Stewart, a regional president of Icon Bank of Texas. "Credit unions were established to serve consumers….It would be healthier for them, the financial services industry, the consumer and the American taxpayer if they continued to excel in this area."
Mission Federal Credit Union, the second-largest credit union in San Diego, has been trying to expand its own small business lending for at least a year. Its business loans grew more than 50 percent from the end of September 2014 through the end of August, from $84 million to $127 million. Based on its $2.8 billion in assets, Mission Federal's cap is $343 million.
CEO Debra Schwartz said bankers claiming commercial lending isn't connected to consumer service are missing the point.
"Do I think every credit union should be doing member business lending? Absolutely not," Schwartz said. "You have to have the right resources and the right talent. But it's wrongheaded to say you're not serving your community by doing business lending. We're not talking about financing Trump Tower; it's someone who wants to start a small business. That's very credit union-y to me."
Schwartz, 55, recently answered questions for the San Diego Business Journal. The interview has been condensed and edited.
Is your commercial real estate loan business still growing?
We're still looking to expand, but we're really conservative in that area. We have delinquencies of zero, which tells you how conservative we are. We're not a full-service business lender, and we don't pretend that we are. Someone looking to start a yogurt shop or a $2 million line of credit is not going to find it here.
I don't disagree with some of the bankers' comments. There absolutely shouldn't be people out there not knowing what they're doing. But we also look at it as a way to diversify our portfolio and reduce risk. If you only do car loans or mortgage loans and
there's a downturn in one of those sectors, you're going to be in a little bit of trouble.
You recently said that one of your key jobs was to say "no" to your executive team and avoid getting distracted by "shiny things." Like what?
Big data, Small Business Administration lending, there are a million different things you can get distracted by. A lot of them are really good, but you just need to choose what you're going to do first, do that really well, and then move to the next thing.
We only have four strategic objectives in a given year to focus on. Right now they're community engagement, employee optimization, smart innovation and operational excellence. You could spend a whole lot of time coming up with reports on big data, but how is it going to help us achieve one of our goals?
One of our goals used to be enterprise risk management. That's part of our DNA now, it didn't need to be a pillar anymore and we replaced it with smart innovation. Mobile banking and home banking were a weakness for us, but we couldn't focus on that innovation until we had our risk tolerances in place first.
You started your career as a part-time bank teller during grad school.
I worked for a troubled institution, which ironically provided some spectacular opportunities. I was a branch manager by the time I was 25 — kind of a field promotion deal. By the time I was 29, I was in charge of the branch network and branch operations. The world of finance is a lot more complicated today. I don't know if I could do what we expect of our branch managers now, but back then a lot of the lending was centralized, so it really was just managing the branch and the employees. It wasn't much different than being a retail manager at a clothing store.
In May, you were re-elected to a second term as a director of the National Association of Federal Credit Unions. Why did you get involved?
It's a good way to give back to the credit union community. Personally, it is also outside my comfort zone. It's not particularly easy for me to go into a congressman's office, ask for something and disagree with him on a position. It's important to keep myself educated on issues that are important to our industry and stretch myself. It's a little bit selfish on my part.
What issues are on the group's radar?
There's some discussion from the Consumer Financial Protection Bureau on overdraft protection, where financial institutions will honor an overdrafted check instead of having it bounce, draw your balance negative and charge you a fee. The CFPB isn't sure people understand all the fees that are involved and are concerned about habitual overdrafters. They're only talking about it, but they believe consumers might be better off just bouncing that check to avoid getting into a cycle of overdrafting.
Our members actually opt-in and say they'd rather pay $23 and have us pay their check than have us return it. It's better than having us bounce the check and have your landlord think you're a deadbeat. The downside of just bouncing a check doesn't make you a winner.