AleSmith Brewing Opens New Tasting Room in Miramar
Tuesday, October 27, 2015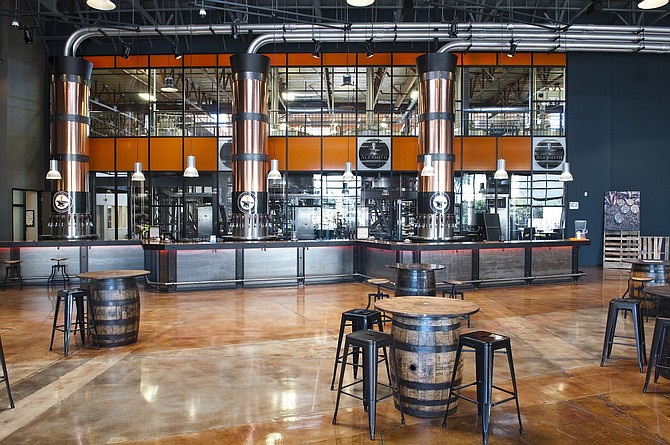 AleSmith Brewing Co. has opened its previously announced new tasting room in Miramar, billed as San Diego County's largest brewery tasting room at 25,000 square feet.
After more than a year of design and a $1.5 million renovation, company officials said AleSmith's new facility is up and running in a leased space at 9990 AleSmith Court, formerly known as Empire Street. The indoor-outdoor space has 60 beer handles and features a zig-zagging bar with a trio of massive copper tap towers, and visitors get a view of a custom-built, two-story brew house behind glass panes frosted over with the company's familiar anvil logo.
Operators said the new tasting room's 5,000-square-foot outdoor beer garden has a fire pit and drought-resistant plants. The exterior space is bordered by a steel rail bar allowing access to food trucks and other on-site vendors of edible items.
Owner and CEO Peter Zien said the new facility will allow the 20-year-old brewer to eventually boost production ten-fold from its current output of nearly 25,000 barrels annually.
The new tasting room was designed by Marcatects and Smith Consulting Architects, with R&R Construction as the general contractor and Urban CM Group as project manager.
Future phases, set for completion in 2016, will include a new beer garden bar, an upstairs mezzanine area, company store and private event space. Zien is also planning a museum honoring the late San Diego Padres Hall-of-Famer Tony Gwynn, being built in association with Gwynn's family and the non-profit Tony and Alicia Gwynn Foundation.