ViaSat Inc. Awarded $13.2 Million Air Force Contract
Monday, October 26, 2015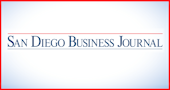 The U.S. Air Force awarded ViaSat Inc. a $13.2 deal to develop Mini Crypto — electronics that can encode a message to National Security Agency specifications while keeping size, weight and power consumption to a minimum.
The Defense Department describes Mini Crypto as a self-contained cryptographic module that can be embedded in a variety of communication devices to protect data and ensure the authentication of those communicating with it.
Under a deal announced Oct. 26, ViaSat (Nasdaq: VSAT) will provide engineering and manufacturing development for the electronics. Contract options will cover low-rate initial production, full-rate production and related support functions. Work is expected to last through October 2020 and will be performed in Carlsbad.
Seven companies bid on the contract.
The Air Force Life Cycle Management Center at Joint Base San Antonio, Texas awarded the deal.