San Diego Named a 'Smart21 Community'
Sunday, October 25, 2015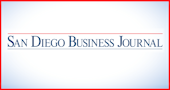 San Diego was one of only two cities in the United States named a "Smart21 Community" by the Intelligent Community Forum.
The other was Marlborough, Mass. There are eight communities from Canada, five from Taiwan, two from Australia and one community from Germany, the Netherlands, New Zealand and Sweden, respectively, for a total of 21 communities.
The Intelligent Community Forum in New York is a global movement of more than 140 cities, towns and regions that promotes best practices of intelligent communities as they adapt to demands and opportunities within the information and communications technology sector, create inclusive prosperity, solve social challenges and improve quality of life.
All of these communities were selected for the world's Smart21 Communities of 2016 and will be in the running for the Intelligent Community of the Year title announced in June 2016.
These nominations are based on six intelligent indicators, which are based off of a community's competitiveness and its success in the broadband economy, and include: broadband, knowledge workforce, innovation, digital equity, sustainability and advocacy. This year's theme, "From Revolution to Renaissance," focuses on how intelligent communities are planning for the future when the economy, environment and patterns of urban and rural life are undergoing dramatic change.
"We are very excited to name 11 new communities from North America, Europe and Asia to this year's Smart21," said ICF co-founder Robert Bell in a news release. "We streamlined our selection process this year, increasing the quantitative portion of the data-gathering and analysis, and that has created opportunities for more cities and counties to be included in consideration for this prestigious group of Smart21 Communities."
This list announcement concluded a one-day conference in Dublin, Ohio, in which a new Intelligent Community Forum Institute for the Study of the Intelligent Community was launched.
The next step in this process is an extensive questionnaire evaluated through an independent research firm. After the top seven cities are announced, one city will replace Columbus, Ohio, as the Intelligent Community of the Year.