ACQUISITION: TECH, LIFE SCIENCES AND FINANCE ARE MOST ACTIVE SECTORS
Region Sees 225 M&As in First Nine Months of 2015
Originally published October 22, 2015 at 8:59 a.m., updated October 22, 2015 at 8:59 a.m.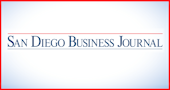 San Diego — The San Diego region recorded 225 mergers and acquisitions (M&As) from Jan. 1 to Oct. 7, most of them involving the technology, finance and life sciences sector, according to information compiled by the nonprofit CONNECT.
The top three deals involved life science companies: the acquisition of CareFusion Corp. by New Jersey-based medical equipment supplier Becton Dickinson and Co. for $13.7 billion; drug-maker Celgene's purchase of Receptos Inc. for $7.3 billion; and Auspex Pharmaceuticals' acquisition by Jerusalem-based Teva Pharmaceutical Industries for $3.4 billion.
Jason Moran, manager director and group head of Healthcare Life Sciences at KPMG Corporate Finance, said activity in the life science sector has been accelerating in San Diego over the past couple of years and will continue to grow, in part due to favorable monetary policy, a fairly easy regulatory environment and a number of technological breakthroughs in the sector.
There are some uncertainties that may influence the continued robustness in the market, including the presidential election, concerns about drug prices and investor willingness to take risks, among other factors.
"If we have a little bit of a downturn in the market, there'll be a little bit of an adjustment in terms of valuation, particularly on the buyer side, and that valuation will have to be bridged over time," Moran said at a recent BIOCOM breakfast meeting. "But I think after that period of adjustment actually happens, we'll continue to see a pretty robust M&A environment. There's just a lot of money that's gone into the sector, a lot of excitement, and I think that's going to continue."