SeaSpine Holdings Corp. Names Patrick Keran General Counsel
Tuesday, October 20, 2015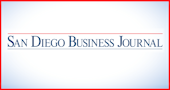 Vista-based SeaSpine Holdings Corp., a medtech company focused on surgical solutions for the treatment of spinal disorders, announced Tuesday the appointment of Patrick Keran to the newly created position of general counsel.
Keran has over 15 years of legal and operational experience, primarily with respect to raising capital, corporate governance and FDA-regulated entities. For the past eight years, Keran held progressively senior positions at Mast Therapeutics, a clinical-stage drug development company, most recently as president and chief operating officer, where he oversaw multiple acquisitions and raised close to $250 million.
"I'm looking forward to the opportunity to simplify our operations and approach to the market to make it easier for our surgeon customers and distributors to do business with us," Keran said in a statement.
Keran will be part of the senior leadership team, reporting directly to Keith Valentine, president and CEO.