Ballast Point, S.D.'s No. 2 Brewer, Files for IPO
Monday, October 19, 2015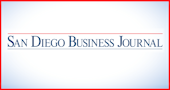 Ballast Point Brewing & Spirits Inc. is taking the plunge with an initial public offering of stock.
The producer of Sculpin IPA and other craft beers filed its S-1 statement with securities regulators on Oct. 19. The business hopes to raise up to $172.5 million.
Ballast Point is the No. 2 brewer in San Diego, according to most recent San Diego Business Journal list of Craft Breweries, which ranks brewers on production. Ballast Point reported 123,425 barrels brewed in 2014, up from 71,105 the previous year. (Privately held Stone Brewing Co. ranked first on the list with 287,000 barrels brewed in 2014.)
Underwriters of the Ballast Point IPO include Goldman, Sachs & Co.; Morgan Stanley; Baird; BMO Capital Markets; Cowen and Co.; and Nomura. Cooley LLP is counsel for the underwriters. Latham & Watkins represents Ballast Point.
Ballast Point, founded in 1992, reported having 375 employees as of April. The company owns a one-third interest in a subsidiary, Ballast Point Spirits LLC.
The business reported $48.9 million in net revenue in 2014, up from $26.4 million in 2013 and $14.0 in 2012.
It eclipsed its 2014 results in the first half of 2015, when it reported net revenue of $51.7 million. Net income for the half was slightly less than $6 million.
The business said it plans to use proceeds from its IPO for working capital and general corporate purposes. Ballast Point has proposed a Nasdaq ticker symbol of PINT.
Ballast Point is launching into its IPO under a recently promoted chairman and CEO. Jim Buechler, who had served as the company's president and general manager since 2012, took the top job in June from founder Jack White Jr., who had been CEO since the company's inception in 1992. Yuseff Cherney is chief operating officer and head brewer.
The IPO comes five weeks after MillerCoors LLC announced plans to acquire Saint Archer Brewing Co., based in the Miramar area, for undisclosed terms. MillerCoors' parent, SABMiller, is itself an acquisition target: Anheuser-Busch InBev wants to buy it.