DEFENSE: THE PENTAGON CASH FLOW IS KIND TO SOME COS., BUT THE SPECTER OF DEFENSE BUDGET CUTS STILL LOOMS
Opposing Forces
Originally published October 15, 2015 at 3:19 p.m., updated October 15, 2015 at 3:19 p.m.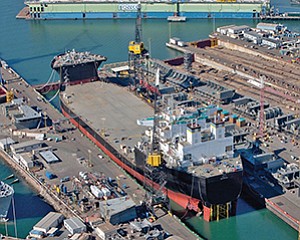 San Diego — How healthy is the region's defense economy?
In the short term, it's great. In the long term, observers seem a little more guarded.
Great rivers of cash flow to a few local companies who have figured out how to effectively sell to the Pentagon. Some of those contractors are based in San Diego; others have a sizable local presence. All pulled in spectacularly large contracts during the fiscal 2015.
The most notable recent example was a deal that could easily send more than $3 billion to Northrop Grumman Corp. over the next 10 years. The deal would fund work on its Global Hawk high-altitude, unmanned aircraft. Rancho Bernardo is home base for the program. The long-term outlook carries some uncertainty.
Military Target
A recent report from SDMAC — the San Diego Military Advisory Council — strikes a cautionary note about building an economy on the back of defense spending.
Various political forces seek to cut the defense budget for several reasons, including controlling the deficit, cutting taxes and steering more money toward social programs.
As of press time, a 2016 defense budget had made its way through Congress, but it faced a veto from President Obama. The president objects to Congress' strategy of increasing the defense budget via a one-time war-funding account while, at the same time, other areas of the budget are held under spending limits. Fiscal 2016 began Oct. 1.
Following a veto, the Defense Department could continue to operate under a so-called continuing resolution, though that approach limits what the government may do. For example, Pentagon leaders may not embark on new programs. A government shutdown might also loom, since the current continuing resolution expires in December.
Looking beyond fiscal 2016, the SDMAC report advises defense contractors to diversify their customer base, and find commercial — and even consumer — uses for their products and services. Global Hawk Flies Into Future
For now at least, things look good for those contractors who have made themselves indispensable to Pentagon planners and have locked in big 2015 contracts.
Some have been lucky enough to get contracts lasting as long as 10 years. Those contractors include Northrop Grumman (NYSE: NOC), which has successfully maneuvered to keep its Global Hawk in the air. In 2013, the Air Force suggested putting new Global Hawks into storage while shifting more work to the manned U-2, built by Lockheed Martin Corp. (NYSE: LMT). The Air Force's reasoning in 2013 was that the Global Hawk cost too much to fly. In March of this year, Northrop said Global Hawk's cost per flight hour had come down significantly.
Prev Next