DEFENSE: THE PENTAGON CASH FLOW IS KIND TO SOME COS., BUT THE SPECTER OF DEFENSE BUDGET CUTS STILL LOOMS
Opposing Forces
Originally published October 15, 2015 at 3:19 p.m., updated October 15, 2015 at 3:19 p.m.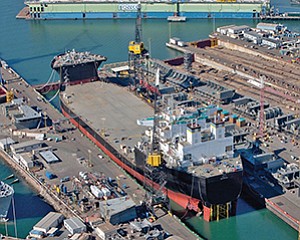 San Diego — How healthy is the region's defense economy?
In the short term, it's great. In the long term, observers seem a little more guarded.
Great rivers of cash flow to a few local companies who have figured out how to effectively sell to the Pentagon. Some of those contractors are based in San Diego; others have a sizable local presence. All pulled in spectacularly large contracts during the fiscal 2015.
The most notable recent example was a deal that could easily send more than $3 billion to Northrop Grumman Corp. over the next 10 years. The deal would fund work on its Global Hawk high-altitude, unmanned aircraft. Rancho Bernardo is home base for the program. The long-term outlook carries some uncertainty.
Military Target
A recent report from SDMAC — the San Diego Military Advisory Council — strikes a cautionary note about building an economy on the back of defense spending.
Various political forces seek to cut the defense budget for several reasons, including controlling the deficit, cutting taxes and steering more money toward social programs.
As of press time, a 2016 defense budget had made its way through Congress, but it faced a veto from President Obama. The president objects to Congress' strategy of increasing the defense budget via a one-time war-funding account while, at the same time, other areas of the budget are held under spending limits. Fiscal 2016 began Oct. 1.
Following a veto, the Defense Department could continue to operate under a so-called continuing resolution, though that approach limits what the government may do. For example, Pentagon leaders may not embark on new programs. A government shutdown might also loom, since the current continuing resolution expires in December.
Looking beyond fiscal 2016, the SDMAC report advises defense contractors to diversify their customer base, and find commercial — and even consumer — uses for their products and services. Global Hawk Flies Into Future
For now at least, things look good for those contractors who have made themselves indispensable to Pentagon planners and have locked in big 2015 contracts.
Some have been lucky enough to get contracts lasting as long as 10 years. Those contractors include Northrop Grumman (NYSE: NOC), which has successfully maneuvered to keep its Global Hawk in the air. In 2013, the Air Force suggested putting new Global Hawks into storage while shifting more work to the manned U-2, built by Lockheed Martin Corp. (NYSE: LMT). The Air Force's reasoning in 2013 was that the Global Hawk cost too much to fly. In March of this year, Northrop said Global Hawk's cost per flight hour had come down significantly.
Northrop's new deal, announced in the final hours of the fiscal 2015, covers development, modernization, retrofit and sustainment of all varieties of Global Hawk aircraft through 2025. The contract announcement offered few specifics, using general terms such as "technical refresh." The indefinite-quantity, indefinite-delivery deal has a ceiling of $3.2 billion.
Northrop also had a large overseas sale brokered by the Pentagon and announced in December. The government of South Korea plans to buy four Global Hawks for $657.4 million. Included with the Block 30 aircraft are sensors, two spare engines and ground control elements. One analyst said the three-and-a-half-year deal likely includes training and image-processing services. Work is scheduled through 2019.
Other Asian countries have expressed interest in Global Hawk and Triton, its seagoing variant.
Making Waves: Ships and Radios
San Diego County companies also saw large contracts for ships and radios.
In June, the U.S. Navy signed a $498.1 million deal with General Dynamics NASSCO to buy the fourth in a series of ships to support expeditionary fighting forces. The ship is built mostly along the lines of the first ship, the USNS Montford Point. Work is expected to be completed by 2018. The General Dynamics (NYSE: GD) unit was to formally kick off Ship No. 4's construction on Oct. 14.
To the north in Carlsbad, ViaSat Inc. pulled in two electronics contracts collectively worth almost $1 billion over five years. The deals cover the production, development and maintenance of MIDS radios. The electronics go aboard a variety of U.S. aircraft and ships, as well as aircraft and ships from two dozen U.S. allies — plus NATO. The jam-resistant radios let pilots and commanders speak with one another, and they let them exchange data, including battlefield information.
ViaSat (Nasdaq: VSAT) received a deal for MIDS JTRS software-defined radios in May. It received a deal for MIDS low-volume terminals in August. The indefinite-delivery, indefinite-quantity contracts have ceiling values of $478.6 million and $514.3 million, respectively.
Both deals were awarded by the Navy's information technology command, SPAWAR, aka the Space and Naval Warfare Systems Command. MIDS stands for Multifunctional Information Distribution System, while JTRS stands for Joint Tactical Radio System.
Also getting a boost in fiscal 2015 was Cubic Corp. (NYSE: CUB), which could make as much as $500 million over the next decade from a deal from the Defense Threat Reduction Agency. The agency, based at Fort Belvoir, Va., focuses on countering weapons of mass destruction, including chemical, biological, radiological, nuclear and high explosives. Cubic's indefinite-quantity, indefinite-delivery deal will support training and builds on Cubic's 15 years of experience with the military office. The San Diego company has enlisted 13 subcontractors to help it during the years ahead.
GA's Go-Getters
General Atomics and its aircraft-building affiliate both scored substantial contracts in fiscal 2015.
In June, General Atomics received a $737 million deal to supply the catapult for the future USS John F. Kennedy, the second aircraft carrier of the USS Gerald R. Ford class. In a departure from the familiar steam catapult, the electromagnetic catapult launches an aircraft with linear motor technology similar to that used on roller coasters. The deal also funds the advanced arresting gear, or the machinery that hangs onto the cables snagged by a landing aircraft's tailhook. The deal will run for seven years.
Fiscal 2015 brought $1.79 billion in federal awards to General Atomics
Aeronautical Systems Inc. of Poway, with 98 percent coming from the Defense Department, according to USASpending.gov. That is up from $1.45 billion in 2014.
GA-ASI's largest contract was a $297.1 million deal in February for 24 Reaper unmanned aircraft along with spare parts and support equipment. The deal covers two and a half years' worth of work. The U.S. Air Force contract specifies the Block 5 version of the Reaper, which is a larger version of GA-ASI's original Predator aircraft.
The U.S. Army contracted for 38 Predator aircraft — which it calls Gray Eagle — plus a like number of air data terminals in two transactions during fiscal 2015. The contracts, worth $254.1 million, cover multiple years.
The Air Force paid $375.2 million for a year's worth of logistics support and field service for its Predators and Reapers during fiscal 2015. Italy, France and the United Kingdom — which also fly GA-ASI unmanned aircraft — paid $10.5 million, $16.1 million and $34.6 million respectively for logistics deals. The U.S. Army paid $214.2 million for logistics in three deals during fiscal 2015, according to Pentagon contract announcements.
Whether San Diego companies will reap such a windfall in fiscal 2016 is not yet clear.
A yearlong budget stalemate in Washington has the potential to make fiscal 2016 less lucrative for San Diego's defense industry.