MEDICINE: IT AIMS FOR WOUND SIMULATIONS TO BE A CUT ABOVE OTHERS
Co. Adds Civilian Training to Its Simulated Scenario Offerings
Originally published October 15, 2015 at 3:01 p.m., updated October 15, 2015 at 3:01 p.m.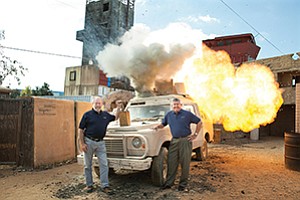 Stu Segall Productions, once a television studio that filmed racy crime shows in the '90s, is now home to all manner of disasters: active shooters, overturned vehicles, and building collapses, to name a few.
The victims are many; trapped underneath rubble, they gush blood and moan in agony. But their wounds are not real. Each victim in the studio is wearing a special "cut suit" made by Strategic Operations, a local company best known for conducting realistic battlefield simulations for the military.
Today, Strategic Operations is focusing on a new branch of operations: civilian training. The company now teaches medical students, first responders and law enforcement how to respond to patients with life-threatening injuries while under high levels of stress.
The former television studio has no trouble inducing a fear response or boosting adrenaline. It uses special effects such as pyrotechnics, lighting, sound and fake explosives to set the scene, and then hires actors to scream and moan while nursing traumatic injuries.
It Takes a Village, a Ship, a Car Wreck…
The company has movielike sets built on the back lot of Stu Segall Productions, including the close quarters of a ship where they staged a coal explosion, and a village in Afghanistan where they simulated bomb blasts and and the wreckage of an overturned vehicle. Turn the corner, and the company has even designed a pseudo-hospital wing complete with an operating room.
"The hyper-realism of our training comes from making it totally immersive so that you willingly suspend your disbelief that you're not actually in combat," said Kit Lavell, executive vice president of Strategic Operations. "Just like in the movies business, when the audience willingly suspends their disbelief that they're not on the planet Pandora during the Avatar film."
The simulations are so convincing that they've even triggered Post Traumatic Stress Disorder (PTSD) episodes from military units, Lavell said.
'Dressing the Wounds'
Traditionally, mannequins have been used to teach emergency medical skills. But no mannequin can replicate the visceral reaction caused by a real person trained to act like they're in agony.
Worn over the chest and neck, the cut suit contains electric pumps that pulse red liquid through fake arteries that cause bleeding when the plastic skin is cut or punctured. A surgical version comes with interchangeable internal organs to demonstrate deeper damage.
The suits were developed with the three primary causes of death on the battlefield in mind: hemorrhage, airway compromise, and a collapsed lung. The surgical cut suit allows practice on a patient with severe internal bleeding or organ damage from point-of-injury through transport and surgical intervention.
Besides pathologies, the surgical cut suit procedures include hemorrhage control by tourniquet, suturing and stapling of internal organs, arterial ligation or clamping, among others. Both suits can be customized based on the scenario and are repairable for multiple uses.
The suit was designed by Strategic Operations during simulation work with more than 700,000 troops, Lavell said. Surgeons inside and outside the military have made suggestions that have gradually expanded the number of conditions the suit can simulate.
Adoption in Medical Schools
Rocky Vista University College of Osteopathic Medicine was the first medical school to use the cut suit as an integrated part of the medical school education in 2012. This year, medical school students, residents, and faculty from multiple institutions queued up for the annual Hyper-Realistic Intensive Surgical Skills Course, which took place the first week in May at Strategic Operations.
Improving the quality of trauma care is a growing focus of groups such as the American College of Surgeons, which launched a Trauma Quality Improvement Program in 2008. The National Trauma Institute estimates that traumatic injuries kill about 190,000 Americans per year and account for about 2.3 million hospitalizations. More realistic trauma training could help bring those numbers down, Lavell said.
New Distribution Channel
CAE Healthcare, a company that sells learning tools to health care students and professionals, just signed an exclusive rights agreement to distribute the surgical cut suit and other simulation training products in all parts of the world outside the U.S.
"Strategic Operations has created a spectacular line of simulation products that complement our portfolio and can be used in conjunction with our patient simulators to add versatility to trauma training scenarios," said Dr. Robert Amyot, president of CAE Healthcare. "Like CAE Healthcare, Strategic Operations has employed subject matter and clinical experts to create training tools for emergency medical scenarios that are common but impossible to practice on live patients."
Today, about 9,000 CAE Healthcare simulators and audiovisual solutions are in use worldwide by medical schools, nursing schools, hospitals, defense forces and other entities.
STRATEGIC OPERATIONS
President: Stu Segall
Revenue: Not disclosed
No. of local employees: 83
Headquarters: Kearny Mesa
Year founded: 2002
Company description: Hyper-realistic simulation training for military personnel, medical students, first responders and law enforcement
Key factors for success: Established military clients, offering improved tools for medical education