August Home Prices Climbed 5.8 Percent Over Last Year
Tuesday, October 6, 2015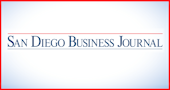 Home values in San Diego and Carlsbad continued to climb in August, rising 5.8 percent over the past year, as home prices appreciated 6.9 percent nationwide, according to a report Tuesday from CoreLogic.
San Diego home prices rose 0.7 percent from July to August, while CoreLogic's national Home Price Index was up 1.2 percent, the 42nd consecutive monthly increase. CoreLogic's figures include distressed sales.
Only Colorado and Washington saw more than 10 percent growth, with 10.4 percent and 10.3 percent, respectively, while Mississippi was the only state to see values fall at -0.9 percent. California prices rose 6.8 percent.
The national index is only expected to rise 4.3 percent by next year.
"Economic forecasts generally project higher mortgage rates and more single-family housing starts for 2016," said Frank Nothaft, CoreLogic's chief economist. "These forces should dampen demand and augment supply, leading to a moderation in home price growth."