Northrop Grumman Awarded 10-Year Air Force Contract Worth $3.2 Billion
Monday, October 5, 2015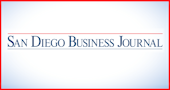 The U.S. Air Force plans to send as much as $3.2 billion in work to Northrop Grumman Corp. over the next 10 years to keep its fleet of Global Hawk high-altitude unmanned aircraft technically up to date.
Separately, the Air Force awarded Northrop Grumman (NYSE: NOC) a one-year, $204 million deal for Global Hawk logistics and sustainment.
The Virginia-based defense contractor bases its Global Hawk program in Rancho Bernardo.
The large contract was a sole-source deal covering development, modernization, retrofit and sustainment activities for all Air Force variants of the Global Hawk, which can fly as high as 60,000 feet and stay aloft for more than 34 hours.
In addition to management, the contractor will oversee engineering efforts, including configuration management, data management, reliability, availability and maintainability, as well as related areas of concern such as technical refresh and diminishing manufacturing sources.
The Air Force Life Cycle Management Center at Wright-Patterson Air Force Base in Ohio awarded the first contract, announced Sept. 30. The Air Force Life Cycle Management Center at Robins Air Force Base in Georgia awarded the second contract, announced Oct. 2.