SPORT: AN ENTREPRENEUR AND A SCIENTIST LOOK TO RE-SHAPE SURFBOARD MAKING WITH AN ALGAE-BASED BOARD
Surfing's Clean Break
Originally published October 1, 2015 at 3:55 p.m., updated October 1, 2015 at 3:55 p.m.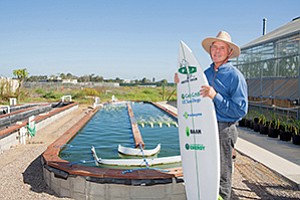 San Diego — The wave of algae products ― from baby formula to biodiesel ― has a new application: surfing.
Two surfers from San Diego County ― one a scientist, the other an entrepreneur ― have developed the world's first sustainable, algae-based surfboard. An improvement, the creators said, that was long past due.
"Surfers travel the entire world to find beautiful, pristine environments, coral reefs and crystal clear water," said Stephen Mayfield, one of the board's creators and director of the California Center for Algae Biotechnology at the University of California, San Diego. "The sad irony is that we show up at those places with a big hunk of plastic made from fossil fuel."
Most surfboard blanks — the blocks of material from which boards are shaped ― are made from polyurethanes derived from fossil fuels. The polyurethanes can be cooked and molded to form a surfboard's central core. The material has unique properties that allow boards to bend and snap back in the water. It's buoyant, flexible and lightweight. In short, polyurethanes are great for surfboards, terrible for the environment.
Happily for eco-friendly surfers, algae oil is chemically similar to petroleum-based polyols, and can be substituted for the latter.
School Project
So Mayfield designed a project for his students to tinker with algae concoctions in labs in the hope of designing a sustainable surfboard.
"I was trying to find a fun way to get my students interested in biotech and sustainability," Mayfield said. "We used to make biodiesel, which we used to fuel a motorcycle at the end of the project. I decided surfboards were safer than motorcycles, and just as fun."
A student in Mayfield's class spread word of the algae surfboard experiments to Martin Gilchrist, owner of Oceanside's Arctic Foam, one of the largest suppliers of surfboard blanks in North America. He immediately saw opportunity.
"Many people don't realize that oil is just algae that's been underground for millions of years," Gilchrist said. "So algae is basically just young oil, and it can be grown in 24 hours."
Gilchrist had been toying with the idea of making boards out of algae for years, and contacted Mayfield to talk shop.
Crafting a Brew
Together, Mayfield brewed concoctions in the lab while Gilchrist added catalysts to harden the compound while the brew was contained in a coffin-shaped vat. One came out too rubbery, and one expanded so quickly that it "exploded," Mayfield said. The engineers had to tweak the six-component recipe several times before they landed on a formula to yield high-quality material.
The prototypes were an overnight success, with media picking up the story across the globe.
"If you Google it, you'll find about six pages of news stories about the surfboard made from algae," Gilchrist said, laughing. "Surfing has always been cool, and using a surfboard as a platform to release this new science and technology has been very successful. Surfers are concerned about the environment and concerned about pollution. It makes sense why they've been so responsive to the idea of a sustainable surfboard."
Pros On Board?
Gilchrist hopes to present an algae surfboard to pro surfers such as Kelly Slater and Gabriel Medina to give the boards a test run (and it is hoped — vouch for their quality).
To source enough algae oil for the initial run of 50 boards, Mayfield contacted Solazyme, a San Francisco-based biotech that produces large quantities of algae oil for everything from commercial lubricants to anti-wrinkle cream. Solazyme agreed to partner with UCSD and supply enough oil for the first batch of products.
"Once the pros sign off on it, we're going to start mass production," Gilchrist said. UCSD will soon pass production of the polyols over to an industrial lab to produce them on a mass scale with the goal of making the boards commercially within three to six months.
There's no cost estimate yet, but Arctic Foam hopes to bring it close to the market norm of about $600. In small quantities, the algae oil is no more expensive than its petroleum-based alternatives, Mayfield said.
If the sustainable board passes pro approval, Gilchrist suspects that major brands will want to switch over to the eco-friendly surfboard blanks. After all, it's trendy to "go green" ― especially when your target market practically lives in the water and on the beach.
"There are not many places in the world where you get a confluence of high-tech, biotech, sustainability, the ocean environment and retail," Mayfield said. "This kind of innovation is unique to San Diego."