HOSPITALITY: COMPANIES FURIOUSLY UPDATING THEATERS
Boffo Experience Drives High-End Niche
Originally published November 25, 2015 at 10:35 a.m., updated November 25, 2015 at 10:35 a.m.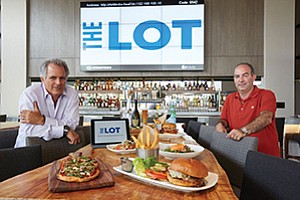 San Diego — Fresh out of college in 1993, Adolfo Fastlicht joined with three friends in Mexico City to form Cinemex, taking on several longer-established Mexican theater chains to eventually offer a more upscale, luxury version of moviegoing.
Now he's joining the fray in what's become an extremely competitive San Diego County market for cinephiles willing to pay more at the box office, in exchange for plush reclining seats, the latest high-tech sound and video enhancements, and food that goes beyond thestaples of popcorn, candy and soda.
Fastlicht is the owner and CEO of La Jolla-based Boffo Cinemas, the holding company for his entity called Backlot Hospitality, which recently opened The Lot La Jolla. Located in a renovated space on Fay Avenue that previously housed a grocery market, The Lot includes a full-service "coastal casual" restaurant with a café and bar, adjacent to a seven-screen luxury movie theater.
"The cinema industry has been around for a century, but it has been maturing recently in terms of revenue and ticket sales," Fastlicht said in an interview. "We have needed for a while now to improve the cinematic experience to where it cannot be replicated at home."
Night-on-the-Town Experience
Most important, he said — and key to his company's business model — is to revive moviegoing as a night-on-the-town social experience. With a similar venue on tap for Liberty Station in Point Loma in 2016, The Lot in La Jolla aims to capture visitor dollars long before the coming attractions and after the closing credits roll in its movie theaters.
Operators are seeking to serve customers starting with breakfast and continuing through post-movie coffee and drinks, giving those moviegoers a place to hang out and converse over the films they've just seen or are planning to see.
Showing both mainstream and "arthouse" movies, The Lot is the first movie theater to operate at La Jolla Cove in several years, and operators are also aiming to fill the void that many film fans experienced earlier this year when Landmark Theatres closed its La Jolla Village theater near UC San Diego, which had operated at a local retail center for more than 30 years.
Luxury Is the Ticket
According to the research firm IBISWorld Inc., U.S. movie theater chains have been investing furiously in recent years, adding amenities such as reclining seats, digital sound and video technologies and resortlike lobbies and eateries.
The moves are in response to a steady decline in attendance and ticket sales, brought about by ever-growing, lower-priced high-definition TV screens with surround-sound tech and multiple streaming video services that allow viewers to watch movies without leaving their sofas. The changing climate has resulted in tepid revenue growth for the major U.S. cinema chains — IBISWorld reported average annual revenue growth of just 0.5 percent in the past five years, reaching $14.9 billion in 2014, as operators maintained a slim 4 percent profit margin.
The next five years will continue to be challenging, with IBISWorld projecting 1.4 percent annual revenue growth.
Now a seasoned veteran of the theater business, Fastlicht says he's wasn't afraid to enter the San Diego County luxury-cinema business, which now includes not only Cinepolis Luxury Cinemas, a Mexico-headquartered chain with a U.S. subsidiary based in La Jolla; but also Los Angeles-based ArcLight Cinemas and recent arrival Angelika Film Center & Café, a division of Los-Angeles based Reading International.
On tap of that, the major chains have been upping their high-end game, with Regal Cinemas recently opening a luxury theater in Carlsbad and AMC Theatresrenovating its own venue in La Jolla to add deluxe amenities.
After growing Cinemex to more than a dozen major Mexican cities, Fastlicht and his partners sold the company in 2002 to Onex Corp. and Oaktree Capital Management. Media reports at the time put the price at more than $400 million.
Unable to remain on the sidelines, Fastlicht in 2011 joined with some executives from his former Mexican competitor Cinepolis, including Carlos Wellman, to form Cinepolis USA, based in La Jolla, which subsequently opened five Southern California luxury cinema locations, including venues in Carmel Valley and Carlsbad.
About two years ago, Fastlicht and Wellman split away from Cinepolis to form their own new company, called Boffo Cinemas, which in turn created Backlot Hospitality to operate the restaurant/theater venues in La Jolla and Point Loma.
The Lot Liberty Station
Fastlicht estimates his company invested around $8 million to develop The Lot La Jolla, and he expects a similar investment for its venue called The Lot Liberty Station, set to open in February or March in Point Loma.
That project, announced earlier this year, includes a new events space with six movie theaters, in the renovated former Luce Auditorium, which previously served as an entertainment and assembly hall for what was once the Naval Training Center.
The Lot at Liberty Station will also include a new outdoor covered lounge for dining and socializing, overlooking the historic Luce Court. Fastlicht said it should provide an important social element that Liberty Station's operators — Corky McMillinCos. and the nonprofit NTC Foundation — have long been seeking, in order to keep visitors at the mixed-use project for longer periods of time.
That would result in more spending by visitors, benefiting other surrounding tenants. The Lot's debut will follow several other new elements at Liberty Station, including a slew of new restaurants and an upcoming Public Market and ice-skating rink.
All of that should complement the movie theater complex, Fastlicht said, adding that the movie venue itself will be something new for that part of San Diego.