Blue Takes a Look at an Interesting Past, a Fascinating Future
Originally published November 25, 2015 at 11:19 a.m., updated November 25, 2015 at 11:19 a.m.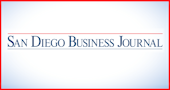 San Diego — Linden S. Blue makes few public appearances and even fewer public speeches.
But, he said, he will get up and speak if he believes in the cause.
EvoNexus, the pro-bono technology accelerator program, was able to get the military aircraft magnate on the stage of its program covering robotics and drone technology Nov. 11. The evening's program referred only to a surprise guest. That guest turned out to be Blue.
Linden Blue and brother J. Neal Blue are the investors behind General Atomics and General Atomics Aeronautical Systems Inc., maker of the Predator unmanned aircraft. The way Blue tells it, the development of the Predator was in some ways personal.
When they were younger, the brothers ran a banana plantation in Nicaragua. In those days, Blue said, Soviet helicopters were "killing off our friends." The brothers figured that if the Soviets didn't have fuel, they couldn't fly, so they got to thinking about how they might destroy the fuel tanks at the helicopter base.
They hit on the idea of sending a radio-controlled two-seat general aviation aircraft into the tank farm.
It was only a hypothetical scenario, but that rough idea evolved into the Predator, an aircraft that can loiter in the air for up to 40 hours straight, collecting video and other intelligence, or delivering bombs and missiles. By now, the brothers' company has made more than 740 Predator-family aircraft.
The Predator has the same payload as an F-16 jet, Blue told his audience, but can stay on the target more than 10 times as long. Nonmilitary applications include border security and firefighting.
Joining Blue onstage was Capt. Kurt Rothenhaus, commander of SPAWAR Systems Center Pacific on Point Loma. Since the 1960s, the U.S. Navy lab has experimented with robots that climb, swim and crawl. SPAWAR has invented throwable robots for commando raids.
Rothenhaus said his organization is working on the puzzle of decreasing the number of people needed to oversee unmanned systems. Other challenges, the Navy captain said, were how to power drones and how to get data off of them.
One telling insight about how times have changed came when panelists discussed the price of GPS. Today, a GPS unit in a wireless phone costs 10 cents. Blue recalled paying $20,000 for an early unit.
The panelists were optimistic about the topic of whether robots would eventually drive humans out of work, arguing that instead jobs would change. In an example of technology creating new jobs, one panelist said that more than 100 people are needed for an unmanned military aircraft flight; many assess data coming out of the aircraft
Technology brings with it a sort of "creative destruction," Blue said, noting that the introduction of the sewing machine in the 19th century increased productivity by a factor of 20.
Panelists were asked how they kept up with technology. Rothenhaus praised a New York Times series called "Robotica." Blue said he is a voracious reader, and that he spends a lot of time on the Internet. Panelists at one point discussed the near-instantaneous way information is shared with the rest of the world.
"There has never been a phenomenon like that in the history of the world," Blue said.
The evening's other panelist was Charles Bergan, vice president of engineering at Qualcomm Inc.'s Qualcomm Technologies Inc. unit. Qualcomm (Nasdaq: QCOM) provided the auditorium for the event.
Tim McConnell of MicroPower Technologies (and formerly with drone maker 3D Robotics) served as moderator.
At a dinner for the speakers following the presentation, Blue told guests about a harrowing experience from the banana plantation days. While flying a small plane from Florida to Nicaragua, Cuban authorities forced Blue to land and jailed him. Behind the scenes was some geopolitical intrigue: the United States was pulling together resources in Central America to invade Cuba at the Bay of Pigs.
Blue was eventually released, but he said many of his cellmates were killed. In a bittersweet part of his story, Blue recalled one comrade who had been part of an a cappella singing group formed at the jail.
Toward the end of the dinner, EvoNexus held a drawing among guests for a door prize: a toy quadcopter.
The name drawn from the fishbowl was Blue's.
The executive — who has access to a factory filled with unmanned Predator aircraft — accepted the gift with a grin while dinner guests laughed.
• • •
Short Takes: The U.S. Army flew its Gray Eagle unmanned aircraft for the first time in South Korean airspace as part of some August war games, aircraft builder General Atomics Aeronautical Systems Inc. said recently.The Gray Eagle is a Predator built to Army specifications. During the exercise, the aircraft relayed imagery to Army Apache helicopters and ground forces. … Kratos Defense & Security Solutions Inc. said Nov. 23 that its Defense & Rocket Support Services Division was chosen as a subcontractor on a multimillion-dollar project. The two-year deal to upgrade and sustain an unnamed weapons system is worth $44 million to the prime contractor, who was also not named. Kratos (Nasdaq: KTOS) has been working on the project since 2005. … The U.S. Air Force said Nov. 19 that it awarded Northrop Grumman Corp. (NYSE: NOC) a $121 million contract modification to extend the services of the Battlefield Airborne Communication Node payload. The Air Force Life Cycle Management Center at Hanscom Air Force Base, Mass., awarded the deal.
Send San Diego defense contracting news to bradg@sdbj.com.