Sharp Selects Design-Build Team for Hospital Expansion
Originally published November 19, 2015 at 2:16 p.m., updated November 19, 2015 at 2:16 p.m.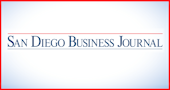 Sharp Chula Vista Medical Center is building a $239 million hospital to keep up with demand in South County.
The 170,000-square-foot facility will add six operating rooms and 138 private rooms for patients, along with a rooftop cafe with sweeping ocean views. It will be Sharp's largest single investment in hospital facilities to date.
Sharp plans to finance the tower project with cash drawn from it savings, revenue bonds and a $50 million fundraising campaign. At present, the building is called the Ocean View Tower, but it's possible that a generous sponsor could change that. The new tower will be built on the same site as the existing hospital and will serve as an extension of the current facility.
Sharp Chula Vista selected Hensel Phelps, AVRP Studios and Smith Group JJR as the design-build team to lead the expansion project. Groundbreaking is expected in late 2016 with a grand opening anticipated in fall 2019. The construction is expected to take 36 months, and employ 1,500 construction workers (90 percent of whom will be local).
The medical center currently serves more than 90,000 patients per year, and that number is expected to grow.
The county continues to see a hospital building boom this year driven in part by statewide seismic safety standards that require many aging structures to be replaced or upgraded by 2030.
At the same time, other health care providers in the region are responding to the needs of a growing population — and a booming segment of seniors and the elderly. Those institutions include Kaiser Permanente, which is building a $900 million hospital in Kearny Mesa; UC San Diego Health, which is constructing a major specialty hospital in La Jolla.
• • •
In other hospital news, Alvarado Hospital Medical Center has acquired two state-of-the-art technologies this month ― a robot-assisted tool for knee surgery and a mask-free device for patients with sleep apnea.
The OMNIBotics Robotic-Assisted Total Knee Replacement is a technology for patients with debilitating pain caused by joint degeneration. It is manufactured by OMNIlife science Inc.
The robotic-assisted system uses a "bone morphing" technology that quickly builds and displays a 3-D model of the patient's anatomy in real-time during the surgical procedure. Using this 3-D imagery, the surgeon can safely and accurately conduct the surgery. The computer system communicates the surgeon's plan to the robotic guidance system, which allows the surgeon to perform more precise work. This unique procedure helps the surgeon to plan for fit and alignment before any bone resections are performed. As a bonus, no pre-operative imaging studies (such as CTs or MRIs) are necessary.
"This innovative, computer-navigated, and robotic-assisted technology provides the capability for the surgeon to customize surgical treatment for each individual patient, ultimately achieving unprecedented precision with improved clinical outcomes," said Dr. James Bates, medical director of Alvarado Hospital's Advanced Joint Institute.
By using minimally invasive surgical techniques, blood conservation strategies, and rapid rehabilitation protocols, patients are less likely to suffer complications that may occur in traditional surgery, Bates said. The precision of the technology also helps ensure ideal leg alignment, which can result in less stress on the knee joint, meaning the joint replacement will last longer.
"The robotic-assisted knee arthroplasty procedure is helping my patients return to daily activities and stay active, with the knowledge that the prosthetic implant has been optimally placed," Bates said.
• • •
Alvarado is also one of the first facilities in the U.S. — and the only hospital in San Diego — to offer a mask-free option for sleep apnea patients called Inspire Therapy.
The technology is meant for patients with moderate to severe obstructive sleep apnea, a dangerous condition in which breathing is interrupted — and sometimes stopped altogether — during sleep.
The Inspire Therapy device, which is manufactured by Inspire Medical Systems Inc., is a small, fully implanted system that has been clinically proven to reduce sleep apnea events. Similar to a small pacemaker, the device is implanted into the upper chest. The technology then senses breathing patterns and delivers mild stimulation to key airway muscles, which keeps the airway open during sleep. It's installed during outpatient surgery and can be wirelessly turned off and on by the patient using a remote.
"Inspire Therapy is a promising new treatment option for people that are not receiving consistent benefits from continuous positive airway pressure (CPAP)," said Dr. Brian Weeks, the first San Diego physician trained to offer this procedure. "Many people find they cannot tolerate the CPAP mask due to an ill fit or claustrophobia. My patients have been very happy with the results."
Contact Brittany Meiling at 858-634-4625 or bmeiling@sdbj.com.