FINANCE: ZEBIT'S PAYROLL LENDING SYSTEM GIVES EMPLOYEES A NEW WORK PERK AND RETAILERS A PIECE OF THE PROFITS ON PURCHASES
Mutual Benefit
Originally published November 19, 2015 at 2:31 p.m., updated November 19, 2015 at 2:31 p.m.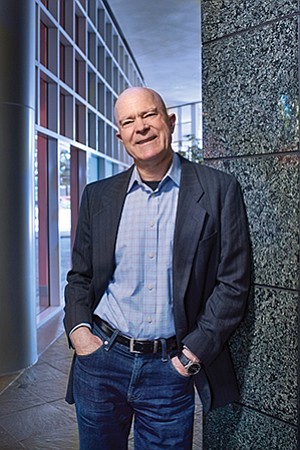 San Diego — When San Diego-based lender Global Analytics bought a Philadelphia startup last year, it billed the acquisition as the perfect jumping off point to introduce its product to U.S. borrowers.
Global provided loans to consumers who were unable to get traditional bank loans and who often faced hefty payday lender interest rates. Global focused its efforts in the U.K. and eventually became the country's second-largest online installment lender with revenues topping $100 million.
Global's startup target was Workpays.me, which let employees buys appliances, electronics and other retail products with zero interest, paying off the debt through payroll deductions.
"We thought the marriage made in heaven was taking their manual business idea and fully automating it," said Michael Thiemann, Global's CEO at the time.
But Thiemann said the automation work required more capital than Global had access to and investors wanted a way to back the venture directly instead of Global overall. So he amicably stepped down to spin off the division, now called Zebit Inc., into its own company.
Zebit launched last month with $10 million in Series A venture capital, backed by Crosslink Capital, Wildcat Venture Partners, Leapfrog Ventures and Correlation Ventures. Global said it is still a significant shareholder though it holds less than half of Zebit's equity. It deferred all comment on the Workpays integration to Thiemann.

An Employee Benefit
Zebit is offered to companies as a potential employee benefit, like a 401k plan. Employers and workers pay nothing to participate, though employers have to give Zebit access to their payroll system. Zebit's online marketplace offers thousands of consumer goods, from dishwashers and big screen TVs to living room furniture and children's toys. Members can buy anything with an interest-free loan, payable over six months, and have a credit line worth 5 percent of their gross annual salary. They have to have been at their jobs for at least one year.
'Profit Sharing'
Zebit's products are pulled from a dozen partner retailers, which it declined to name. Zebit makes a profit by sharing sale proceeds with the retailers, while employees pay no interest, fees or late payment penalties. Thiemann said the deal is attractive to retailers because it allows consumers without access to credit cards or with bad credit scores to buy big-ticket items they couldn't otherwise get. The risk of missed payments is low because Zebit's new software automatically imports the loan information into employers' payroll systems.
Thiemann added that while Zebit may freeze the accounts of customers who leave their jobs and stop payment, they will never add late charges or interest payments after the six-month loan term expires.
"We're trying to build a completely clean brand that earns the trust of employers and employees," Thiemann said. "Building that brand is worth the extra costs in potential losses. This population will never have a better credit deal than they have with us."
Products are generally competitive with stores such as Amazon, Target and Lowe's, though shipping isn't free and can put total costs above those stores. Some items are more expensive through Zebit, such as a Sharp Aquos 4K TV that cost $2,299 compared with $1,299 at Amazon and $1,699 at Best Buy. Sharp's suggested retail price is $3,199.
Retailers Look for Volume
Workpays.me had its own proprietary catalog, buying items wholesale and making a profit on the sale price. While Zebit has its own marketplace populated by retail partners, the retailers will also be able to accept Zebit directly on their websites. Thiemann said the retailers, including a $100 million electronics chain, are waiting to see whether Zebit's volume justifies the investment.
In the future, Zebit hopes to issue consumers physical cards that would allow them to buy goods at participating stores with their Zebit credit line. That was a model Global used in the U.K. with a series of pre-paid debit cards, also called Zebit, loaded with microloans for underserved populations and authorized for use at certain merchants. The program only had limited success because few merchants were willing to accept the cards, according to Thiemann, though he liked the brand name enough to use it for his spinoff.
While benefits such as corporate discounts are relatively common, an executive with San Diego Human Resources Consulting Inc. said formal loan benefits, even with interest, were rare. COO Mike Wootton noted smaller businesses owners sometimes give employees interest-free cash advances and take the money out of future paychecks, but it's not a formal policy.
"Providing credit to employees for the sole purpose of purchasing merchandise is definitely unique," Wootton said. "But employers may be concerned about potential liability for the balance of loans if employees are terminated before they're paid off."
Zebit has commitments from employers to start offering the benefit next year, giving the company an initial pool of 250,000 consumers. While the loan terms are currently standard for all participants, that could change as Zebit integrates the type of data analytics used by Global to underwrite loans.
"The better the employers, the less turnover, the more tenure, the easier it is to offer this benefit to them, perhaps with better features," Thiemann said. "After some time, we can analyze the history of transactions and potentially offer better benefits to more employees."
Keeping Customers Informed
Two benefits that will remain standard are a mobile-accessible account management site, allowing easy access to payment schedules, and financial education and literacy tools. Payday lenders, Thiemann said, don't have an incentive to present that information clearly.
"We don't believe this exists in the underserved market today," Thiemann said. "They don't want to give you easy account management. We can do it because we're not charging interest and don't benefit from late payments."