BREWING: DEAL COULD LEAVE TRANSFORMED SCENE IN ITS WAKE
Ballast's $1B Sale Marks Sea Change
Originally published November 19, 2015 at 12:31 p.m., updated November 19, 2015 at 12:31 p.m.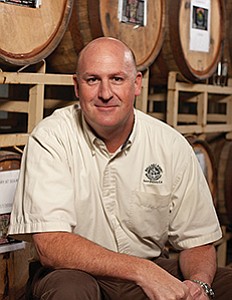 San Diego — Industry observers say the $1 billion tab that Constellation Brands Inc. plans to pay for San Diego's Ballast Point Brewing & Spirits marks a significant milestone for the region's burgeoning and maturing craft beer industry.
Following closely on the heels of MillerCoors' acquisition of Miramar-based Saint Archer Brewing Co. for an undisclosed price, the Ballast Point deal should bring benefits such as an enhanced global beer profile for the region as a whole, financing for significant expansion capabilities for the brewers, and access to nationwide markets that the companies otherwise could never have reached on their own — or at least not for several more years.
If other local craft brewers follow suit with similar acquisition deals or stock offerings in coming months or years, as experts project will indeed happen, there could also be challenges ahead. Those include having to fight the perception among craft aficionados that they have sold out to "Big Beer" and potential battles for retail shelf space as the micro-brewers are absorbed into the larger distribution systems of the macro-brewers, who will still be hawking their numerous other beer brands with established followings.
In any event, the experts agree that the major beer makers — which have invested hundreds of millions of dollars in acquiring other macro brewers during the past decade — are now seriously training their resources on the craft category, seeking to harness its continuing rise in popularity as it cuts sharply into sales of the mainstream brews.
Craft's Cut of Sales
The Colorado-based Brewers Association, an industry trade group, reported earlier this year that the dollar value of craft beer sold in the U.S. during 2014 was $19.6 billion, representing 19.3 percent of all U.S. beer sales — up from about a 14 percent share in 2013. Craft's volume share of beer sold hit 11 percent in 2014, more than double the share five years ago and the first time ever that the volume share hit a double-digit percentage.
The upshot is that more micro and nano-brewers, including those among the more than 100 in San Diego County, could be faced with offers they'll find hard to refuse.
"The macro-brewers are thinking, if you can't beat them, why not acquire them?" said Jerry Varga, a partner in the Mission Valley office of business consulting firm RSM US LLP (formerly McGladrey), which has clients including craft brewers but was not involved in the recent local deals.
"It makes you wonder, is it going to be a race?" he said. "Will other small companies be under pressure to make their own deals to keep up?"
Reaching the Next Level
Ballast Point's top leaders have not commented on the deal with New York-based Constellation, set to close by year's end, beyond the official deal announcement of Nov. 16. Founder Jack White, who started Ballast Point in 1996, said the team at Constellation "shares our values, entrepreneurial spirit and passion for beer, and has a proven track record of helping successful premium brands reach the next level of growth and scale."
Constellation officials said the purchase price values the acquisition at a multiple in the mid- to high-teens range, relative to Ballast Point's projected calendar 2016 earnings.
In documents included in its October federal filing for an initial public offering of stock, seeking to raise up to $172.5 million but now apparently called off, Ballast Point reported total revenue of more than $51.1 million for 2014, up from $27.4 million in 2013; and net income of $2.9 million, up from $1.6 million. It also nearly doubled its barrels sold from the prior year, reaching 115,652 in 2014.
In the statement, Constellation officials said Ballast Point is on track to reach net sales of $115 million for 2015.
Ballast Point produces 15 beer brands, including Sculpin IPA, Longfin Lager and Big Eye IPA, at four local facilities employing more than 500. In the past five years, it has also been increasing its production of small-batch distilled spirits, including whiskies and flavored vodka, gin and rum.
That appears to mesh well with Constellation's offerings, which include the Corona, Modelo and Pacifico beer brands, along with Robert Mondavi wines and Svedka vodka. Ballast Point officials have said publicly that its own spirits operations will remain separately owned by founder Jack White and co-founding distiller Yuseff Cherney, though the company has not elaborated on potential future spirits distribution arrangements with Constellation.
Starring Role
Varga and other observers, who were also not involved with the Ballast Point transaction, called the acquisition deal a significant achievement for White, Cherney, recently appointed CEO Jim
Buechler and the rest of its local management team. It also validates by reflection the overall status of the region as a principal producer of the "West Coast IPA" style that the macro brewers are increasingly looking to add to their offerings as that variety rises in national popularity, especially among younger consumers.
Experts note that the price tag that Constellation is paying also signals a potential coming escalation in the valuations of craft brewers, provided that their brews and reputations have already traveled well beyond their home markets. Ballast Point, for instance, is now available in more than 30 states.
Other brewers that haven't yet grown to Ballast Point's size – it was the nation's 31st largest craft brewer by volume in 2014 — could find themselves with better access to other funding avenues, including public stock offerings, enhanced interest from private investors, and mergers with other brewers.
The ultra-competitive climate already has local brewers — big and small — rethinking their management, production, distribution and other infrastructure elements.
"It's reached the point where some companies are asking themselves, do you have the chief financial officer in place, do you have the right strategy, do you have the right strategic partners, otherwise you might die on the vine," said Jonathan Dale, a vice president in the San Diego office of California Bank & Trust who handles financing for beverage and restaurant companies, among other clients. "It's just the maturation of the industry."
Distribution Muscle
Duane Stanford, editor of the industry publication Beverage Digest, said whether others decide to follow the path of Saint Archer and Ballast Point will depend on several factors, including whether company leaders wish to keep operations local, or eventually pass the company on to future family generations.
Many could find it hard to pass up the distribution clout of a company like Constellation, which has had considerable success turning former regional Mexican brands like Corona, Pacifico and Modelo into strong sellers in the U.S. market, but is just now venturing seriously into the U.S. craft beer sector.
"With that kind of distribution scale, there are all kinds of things you can do with a craft beer brand," Stanford said.
But there are also challenges in going national and global. Brian Mulvaney, who heads the U.S. beverage finance group at Bank of America Merrill Lynch, said that while craft brewers can gain more geographic exposure for their brands as a result of acquisitions, they may also end up struggling for shelf space against other craft and import brands owned by the same macro companies.
The macro-brewers, through their wide and long-established distribution deals, control the bulk of the "cold box" space at places that sell beer in the U.S. and other countries. On the other hand, Mulvaney said, stores in most markets will likely continue to emphasize locally made brews in their cold and nonrefrigerated offerings.
He said acquisition by a big brewer is generally a net benefit for a craft brewer, especially in the U.S. market, where there are strict limitations on the types of multistate distribution outlets that a brewer can own, such as stores and bars.
As for the concern that a craft beer maker will lose loyal drinkers by "going corporate," industry analyst Nick Petrillo of IBISWorld Inc. said there has been no evidence that acquisitions of small players by bigger ones — going back to Anheuser-Busch InBev's 2011 purchase of Chicago's Goose Island Beer Co. for around $40 million — results in a decline in product quality.
Keeping the Local Links
That's largely because that and several other U.S. deals announced since then, including the recent Saint Archer and Ballast Point transactions, included provisions that kept the craft operations local and independent, under their current management teams. That in turn helps preserve the culture, reputation and authenticity of the brands.
In that situation, the craft brewer gets the financing it needs to grow and the macro-brewer gains entrée to a growing beer segment at a time when overall U.S. beer sales have been declining for the past several years. For those reasons, there are likely many more craft-brew acquisitions ahead. "This is just the beginning," Petrillo said.