Port Staff Recommends Brigantine Plan to Redevelop Anthony's Site
Sunday, November 15, 2015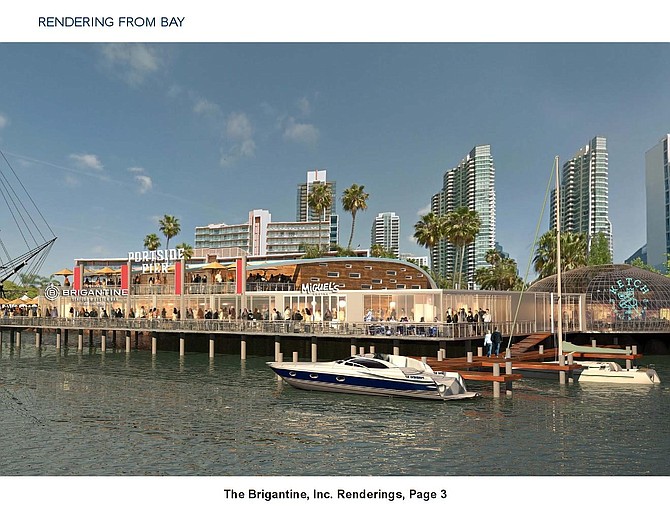 San Diego port commissioners are slated on Nov. 17 to consider a staff recommendation favoring Brigantine Inc.'s proposal to redevelop the current downtown waterfront site of the iconic Anthony's Fish Grotto.
If approved, locally based Brigantine's plan for a multivenue dining concept called Portside Pier would beat out two other finalists — a complex called The Embarcadero, proposed by San Diego developer Sunroad Enterprises; and a revised project called Embarcadero Landing, put forward by locally headquartered Fish Market Restaurants and the current owners of Anthony's.
Unified Port of San Diego officials earlier this year interviewed six teams that submitted proposals to redevelop the site at 1360 N. Harbor Drive, where Anthony's current 52-year lease is set to expire in January 2017. Port officials are seeking to maximize revenue from long-term commercial leases on prime waterfront properties downtown and in other areas.
The board of port commissioners in August approved a staff recommendation calling for the port district to enter into final negotiations with Brigantine and Sunroad, but amended it to allow the Anthony's team to revise its earlier redevelopment proposal and remain in the running. The decision followed numerous emails and public comments from residents and the business community, calling on officials to keep Anthony's on the waterfront.
Commissioners will review a resolution calling on the port district to enter into final negotiations with Brigantine to redevelop and operate the site under a 40-year lease. According to port staff documents, Brigantine plans to invest a minimum of $13 million into Portside Pier, which would include the company-run eateries Brigantine on the Bay and Miguel's Cocina, along with Ketch Grill & Taps and Portside Gelato & Coffee.
The port district estimates the Brigantine project will generate a minimum of $1.1 million in annual rent. A staff comparison of the three finalists notes that the Brigantine plan also includes a potential future "dock and dine" expansion, allowing boat owners to visit the complex, not found in the other two plans.
Sunroad's $12 million plan for The Embarcadero includes a Stone Brewing craft beer tasting room, along with restaurants Blue Point Coastal Cuisine, Craft & Commerce, Pier Burger and Fish Camp.
The revised $12 million development plan for Embarcadero Landing calls for a redesigned Anthony's and fast-casual Fishette, along with new venues Big Bay Coffee, artisanal eatery Harbor and Ash, an Italian-style bar called Porto Vino and a craft beer and cocktail venue called Topside Lounge.