DESIGN: COS. INCORPORATE GREATER VARIETY OF SETTINGS
Work Styles Shape Office Workspaces
Originally published November 12, 2015 at 12:12 p.m., updated November 12, 2015 at 12:12 p.m.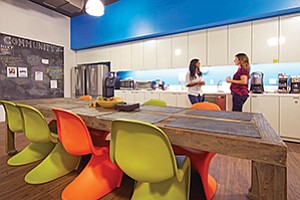 San Diego — Today's workplaces are rarely as humdrum as the Dunder Mifflin office, home to the fictional paper company on the TV sitcom "The Office." The truth is, fewer companies are opting for square offices, rows of cubicles, and formal boardrooms. The modern office is being redefined.
According to workplace-design experts, offices today are strategically designed to increase efficiency and boost creativity, all while establishing a company's unique corporate identity. Designers are embracing findings in neuroscience and psychology to use light, color and sound to maximize an employee's performance. Further, the line between professional and personal life continues to blur as employers question the effectiveness of a traditional office environment.
"Work is not a separate place from your life," said Tamara Romeo, founder and CEO of San Diego Office Design. "Smart CEOs are creating offices where you have social spaces, dining, and fitness experiences all in one environment."
Romeo said this fusion of professional and personal life is particularly present in the millennial generation (ages 18 to 34). This ambitious, tech-savvy cohort has notably different working styles and preferences than other generations. For instance, millennials may be more productive sitting in cafés or lounge areas than in traditional workstations. Their ease with mobile technology enables many of them to work anytime, anywhere. In many high-tech companies run by millennials, nonconventional workspaces are the thing.
"Millennials are collaborators, and they don't like to isolate themselves," said Marlyn Zucosky, partner and director of interior design at Joshua Zinder Architecture and Design. "Providing more open places for informal meetings is a successful strategy. And millennials in general have a lower demand for privacy than baby boomers."
As millennials will soon make up 50 percent of the workforce, employers are increasingly adopting modern design concepts to attract new talent.
Here are four trends in modern workplace design.
SOCIAL SPACES
In a contemporary version of the TV drama "Mad Men" and its bibulous ad executives, more companies are embracing the idea of drinking at work. A bar tap in the office may seem counterproductive, but designers say incorporating social spaces where employees can gather recreationally can inspire creativity and result in a more connected staff. Further, social spaces lure employees to the workplace in off hours. Instead of leaving work early on a Friday for happy hour, colleagues may choose to hang around the office bar.
"It's about creating spaces that people are drawn to whether they are working or not," Romeo said.
But social spaces aren't always beer-related. Many offices incorporate table games such as shuffleboard, air hockey and Ping-Pong. By introducing playful elements into their workspaces, companies can offset the stresses of everyday work, which can combat absenteeism and increase the overall mood and productivity of the workplace.
LOUNGE AREAS
Most modern workplaces incorporate a communal area, such as unenclosed lounge space or casual seating groups. Many office designers refer to this space as the "Starbucks zone." To make these areas effective, well-planned layouts and furnishings are essential, workplace designers say.
Ideally incorporating daylight, outdoor views and outdoor access, these areas have a different vibe than work zones. The spaces may include tables, chairs, comfortable lounge furniture, coffee service, Wi-Fi, semi-private booths equipped with power for charging devices, writable surfaces, and mobile dividers. The easier it is for employees to move items around, the better.
"These spaces are very popular with millennials," Romeo said. "They tend to have the mindset that their employers shouldn't care where they work as long as they get their work done. Incorporating these spaces helps employers cater to multiple generations of workers. It acknowledges that not all people work in exactly the same way."
QUIET SPACES
The walls have come tumbling down in offices everywhere, much to the chagrin of introverted cubicle dwellers. Although it was believed that an open floor plan would increase productivity and collaboration in the workplace, a recent series of studies suggest the opposite ― that an open office may alienate and distract employees.
As the tide turns against the open plan, a company called Steelcase is capitalizing on it. Last year, it collaborated with Susan Cain, the introvert advocate and author of "Quiet: The Power of Introverts in a World That Can't Stop Talking," who says that as much as 30 percent of the workforce is introverted — and that by failing to design for them, companies are preventing employees from reaching their potential. Working with Cain, the company released a series of pod-style offices and furniture that's oriented toward what they call "The Quiet Ones."
Other design companies are jumping on board, designing privacy pods meant for one or two people. The spaces are often outfitted with screens for teleconferencing, Bluetooth for private calls, and a small workspace where employees can focus on an intensive project without distractions.
SOUND MASKING
Another concept that emerged in response to the plight of the open office is sound-masking technology. Companies are starting to pipe in special background noise to improve the acoustics of the bullpen. Research suggests that noise itself isn't distracting, but unwanted speech noise is. However, words that are incomprehensible are less likely to be distracting. By adding a continuous, low-level ambient sound to an environment (such as white noise, which sounds similar to the sound of airflow), sound masking can help make workplace conversations unintelligible from a short distance, and therefore much easier to ignore.
White noise does more than drown out workplace chatter. It can also make employees more comfortable in an overly quiet environment, said Carisa Wisniewski, a partner at Moss Adams who chose to implement sound masking in the accounting firm's San Diego office.
"You can pick up the phone and talk and not feel like you're the only person talking in the room," Wisniewski said.