Report Says 9,000 Companies Left California Over Last 7 Years
Wednesday, November 11, 2015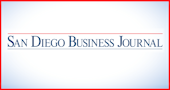 A study by Spectrum Location Solutions found that within the last seven years, 9,000 businesses left California in favor of other locations. San Diego rated No. 5 for the most losses; Los Angeles topped the list.
The other counties with the highest number of disinvestments were Orange, Santa Clara, San Francisco, Alameda, San Mateo, Ventura, Sacramento, Riverside, San Bernardino, Contra Costa tied with Santa Barbara, San Joaquin, Stanislaus and Sonoma.
Joseph Vranich, site selection consultant and president of Irvine-based Spectrum Location Solutions, said San Diego County had at least 63 disinvestments.
The report excluded instances of companies opening new out-of-state facilities to tap into other growing markets.
The top 10 states businesses migrated to were Texas, Nevada, Arizona, Colorado, Washington, Oregon, North Carolina, Florida, George and Virginia.
Vranich attributes the relocations to regulations, taxes and anxiety.
The top 10 foreign nations that gained the most offshoring are Mexico, India, China, Canada, Malaysia, Philippines, Costa Rica, Singapore, Japan and the United Kingdom.
Capital diverted to out-of-state locations totaled $68 billion.
The top industry to disinvest was manufacturing. Companies who relocated from California or expand elsewhere transfer capital along with shifting jobs, machinery, taxable income, intellectual capital, training facilities and philanthropic investments.
The report is based on news stories and company reports to the U.S. Department of Labor, Securities and Exchange Commission and the California Employment Development Department. All of this information was public.