IBoss Accepts Outside Funding for First Time, Takes in $35M
Originally published November 5, 2015 at 2:31 p.m., updated November 5, 2015 at 2:31 p.m.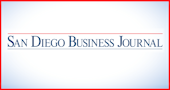 San Diego — Iboss Cybersecurity raised $35 million in series A funding from Goldman Sachs Private Capital Investing, the company announced Nov. 3.
Iboss plans to use the funds to expand globally and to develop new products.
The investment from Goldman Sachs marks the first time iboss has accepted outside funding. Until now, Peter and Paul Martini owned 100 percent of the San Diego business. The brothers estimate they have turned down institutional investors at least six times.
Goldman Sachs will hold a minority stake in iboss. Stephen Kerns, vice president with Goldman Sachs Private Capital Investing, will join the iboss board.
The business expects revenue of $50 million this year. Over the past three years, iboss has grown more than 1,800 percent, the company said, adding that it has been profitable since its inception. Big-business and institutional clients include Xerox, Sears, Urban Outfitters and the U.S. Department of the Interior.
Iboss recently opened a 43,000-square-foot headquarters in the University Towne Center neighborhood, in a building that formerly housed the SAIC data center.
The Martinis, both 36, are fraternal twins and the sons of Cuban exiles.
• • •
Robot Initiative Ends After One Session: Qualcomm Inc. confirmed last week that it is ending its relationship with Colorado-based Techstars. The partnership offered an incubator program for startups in the field of robotics. Ten companies went through the four-month program, and representatives of the incubator's inaugural class took part in a Demo Day on Sept. 10.
"After careful consideration, Qualcomm has determined that the best course of action for the company, our shareholders and our customers is to not move forward with Techstars while we look into future robotics initiatives," a Qualcomm spokesman said.
Qualcomm (Nasdaq: QCOM) said it plans to continue to mentor the 10 companies in this year's class, and said it is evaluating other robotics programs for next year.
• • •
Old Partnership, New Terms: In other Qualcomm news, the San Diego company said on Nov. 2 that it signed an updated license agreement with China-based ZTE Corp., covering Qualcomm's 3G and 4G wireless technology. The whole deal was influenced by the agreement Qualcomm struck in February with Chinese regulators following a 14-month investigation. Those regulators accused Qualcomm of anti-competitive practices. Qualcomm paid a $975 million fine and promised to give Chinese high-tech companies a break in royalty rates when they wanted to license Qualcomm technology.
"This agreement with ZTE is another important step for our licensing business in China, and we look forward to continuing our progress in concluding agreements with Chinese device companies," said Eric Reifschneider, senior vice president and general manager of Qualcomm Technology Licensing, in a prepared statement.
• • •
Shaking Up the Ad Market: San Diego-based Adtile Technologies Inc. said Oct. 26 that it has partnered with LG Uplus, the South Korean mobile phone network, to offer its motion technology on the South Korean airwaves. Adtile's product lets a smartphone user manipulate the advertising seen on the screen by moving the smartphone.
CEO Nils Forsblum explained it this way in his blog: "A mobile ad behaves more like a game or mini app than an ad. It does so by leveraging the various motion and location sensors within a mobile device to accurately detect a user's motions. When the user moves — whether to push, pull, rotate, twist, shake or tilt his or her smartphone or tablet — the ad responds in real time, creating a coordinated seamless interaction that is completely intuitive to the user."
If I was an app designer, I think I would be elated. Maybe I'd even stay up all night inventing things to do with the technology. I imagine some Korean designers are definitely going to have some fun.
• • •
Go Gossip in Greenland, Natter in Namibia: People traveling to the far ends of the Earth and wondering how they might stay on the Internet can fall back on a Wi-Fi connection from XCom Global Inc. The Sorrento Mesa business offers low-cost wireless Internet access rental for business and recreational travelers. By now, XCom's service extends to 199 countries.
XCom recently announced that it added coverage in the Aland Islands (near Finland), Algeria, Benin, Bhutan, Bosnia and Herzegovina,
Brunei, Cameroon, Equatorial Guinea, French Polynesia (including Tahiti), Gambia, Greenland, Mozambique, Namibia, and Vanuatu.
Travelers arrange for their coverage before they set out on their trips so they can have a data connection upon arrival. No technical expertise or unauthorized unlocking is required to receive a connection to the company's Wi-Fi hotspots, which XCom describes as private and secure.
• • •
Valuation Tabulation: Carmel Valley-based Bytes Inc. recently took the wraps off a new custom software application commissioned by Pacific Beach-based ValuTech Inc. The product helps people conduct real estate appraisals by assembling notes and photographs with a minimal number of steps. By speeding the appraisal process, the app reportedly doubles productivity, Bytes says. The initial version is on Android. An iOS version will follow.
Bytes and its CEO, Sanjiv Prabhakaran, have taken on other creative tasks which were featured in the Business Journal's Innovation section in 2012. There was an app for shaping surfboards, for client ShapeLogic LLC and licensee Firewire Surfboard LLC. And there was an app for tailors who need to alter U.S. Marine Corps uniforms.
ITegrity Web Technologies Inc. led the latter project for client A Sonabend Co.
Send San Diego technology news to bradg@sdbj.com.