Arcturus and Ultragenyx Partner on mRNA Therapeutics
Originally published November 5, 2015 at 2:35 p.m., updated November 5, 2015 at 2:35 p.m.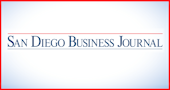 San Diego — Arcturus Therapeutics, a Johnson & Johnson Innovation upstart out of the incubator JLABS, has landed a lucrative collaboration with Novato-based Ultragenyx Pharmaceutical Inc.
The upfront payment is only $10 million, but Arcturus stands to collect up to $1.56 billion from Ultragenyx in a rare disease research collaboration and license deal to discover and develop messenger RNA (mRNA) therapeutics.
The deal could be a major break for Arcturus, a 2-year-old company that was first founded with no assets, technology or pipeline in hand.
In 2013, the San Diego-based company raised $1.3 million in seed funding from high net-worth investors from the U.S. and Canada. Four months later, the company tapped most of those investors again along with added interests from Japan in a $5 million Series A round.
In June, Arcturus inked a global research collaboration and license agreement with J&J unit Janssen Pharmaceuticals Inc., facilitated by J&J Innovation, to develop and commercialize mRNA-based drug candidates to treat undisclosed disease targets. In return, Janssen agreed to make an undisclosed upfront payment along with preclinical, development and sales-based milestones and royalty payments on product sales. Janssen agreed to provide research and development support and assumed responsibility for development and commercialization costs associated with the program.
That arrangement set the tone for the larger Ultragenyx partnership.
During the initial phase of the new collaboration, Arcturus will design and optimize mRNA therapeutics for two undisclosed rare disease targets, and Ultragenyx has the option to add up to eight additional rare disease targets during the collaborative research period. Ultragenyx will oversee development and commercialization of any products emerging from the collaboration in return for preclinical, clinical, regulatory and sales milestone payments of up to $156 million for each target, plus reimbursement of research expenses and mid-single to low double-digit royalties on product sales.
• • •
In other life science news, cancer drugmaker Kura Oncology set terms for its initial public offering.
The La Jolla company is offering $60 million worth of shares at $16 per share. Assuming an overallotment option of $9 million, the total offering is valued up to $69 million. At the proposed price, Kura Oncology would command a fully diluted market value of $359 million. The company filed for an $86 million initial public offering (IPO) Oct. 20. The company intends to list on the Nasdaq Global Select Market under the symbol KURA.
The IPO news comes shortly after the company completed a $60 million private placement of its common stock back in March, along with a reverse merger to take the company public. Kura has since listed on the OTC Markets, but the company's CEO, Troy Wilson, said the company had intended to move to the Nasdaq eventually.
The clinical stage biopharmaceutical company is discovering and developing personalized therapeutics for the treatment of solid tumors and blood cancers. It focuses on the development of small molecule product candidates that target cell signaling pathways that are important in driving the progression of certain cancers. The company aims to employ molecular diagnostics to identify patients with cancers who are likely to benefit from its targeted product candidates.
The company intends to use the proceeds from this offering to develop its pipeline and fund its research. The remainder will be used for working capital and general corporate purposes.
• • •
Democratic Rep. Scott Peters is launching a congressional caucus focused on the life science industry in hopes of keeping Capitol Hill informed on the sector's needs and challenges.
Peters joined forces with Republican Congressman Leonard Lance of New Jersey to form the bipartisan caucus. The representatives each have a stake in supporting the life science industry as both San Diego and New Jersey are hubs for biotech and pharma. Peters represents the 52nd District of California, which covers much of central San Diego, including the La Jolla area where many new biotech companies are located.
The caucus of like-minded legislators would help draft legislation focused on specific issues or industries that Congress as a whole does not follow.
"In San Diego, our life sciences sector is a hub for high-quality job creation, helping to grow the region's economy and drawing talented individuals from across the country and the world to our communities," Peters said. "Washington, D.C., is not the kind of atmosphere that generates tomorrow's solutions, and it is my hope that we can use this caucus to bring experts from across the country to D.C. as we work to make informed public policy decisions."
Peters sits on the House Judiciary Committee, with jurisdiction over intellectual property and patent law issues, while Lance serves on the House Energy & Commerce Committee, with jurisdiction over health care issues. The two congressmen have led political action initiatives to support the industry in previous years, including attempts to repeal the medical device tax, raise funding for the National Institutes of Health, as well as reform patent, regulatory and reimbursement policy.
The San Diego life sciences community quickly applauded the creation of the caucus, with industry groups BIOCOM and the California Life Sciences Association issuing supporting statements.
Contact Brittany Meiling at bmeiling@sdbj.com or 858-634-4625.