San Diego Housing Prices Growing at Slower Pace Than National Average
Tuesday, November 3, 2015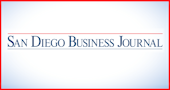 Home values in San Diego and Carlsbad grew at a slower pace than the national average, increasing 5.4 percent over the past year compared to 6.4 percent nationwide, according to a report Tuesday from CoreLogic.
CoreLogic's National Price Index recorded appreciation figures for the year ending in September. San Diego home prices were essentially flat between August and September, rising 0.1 percent. The national index also experienced a minimal increase of 0.6 percent. CoreLogic's figures include distressed sales.
The firm said the last 15 months have been very stable after several years of post-crash volatility, with year-over-year growth between 5 percent and 7 percent.
"The continued growth in home prices is welcome news for many homeowners, but more markets are becoming overvalued. In the near term, this trend is likely to continue and pose...risks to the housing economy," CEO Anand Nallathambi said. "More has to be done to expand inventories if we are going to address the emerging affordability crisis, especially in hot markets like California and Colorado."
The national index is expected to rise 4.7 percent by next September.