La Valencia Hotel Completes Upgrades in $12 Million Renovation
Tuesday, November 3, 2015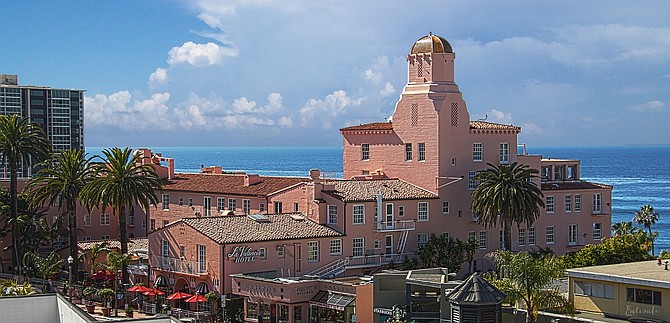 Owner Pacifica Host Hotels recently completed initial phases of a $12 million renovation at the vintage La Valencia Hotel in La Jolla, with improvements covering the property's guest rooms, front entry, lobby lounge and 10th-floor Sky Suite.
Operators said an upcoming final phase of upgrades to the 112-room luxury hotel, at 1132 Prospect St., will include the addition of new top-floor suites and a signature spa.
The 89-year-old property, also known locally as "La V" and "The Pink Lady," was acquired in 2011 for $41 million by the hospitality division of San Diego-based Pacifica Cos., after nearly seven decades of ownership by the family of Harry Collins.
Completed improvements include a makeover of the hotel's restaurant, The Med, including its oceanfront terrace and Prospect Drive Terrace. It is now operating its first new restaurant concept in 50 years, a street-facing, European-style bistro called Café La Rue, in the space that formerly housed Whaling Bar.
The property's Sky Room Restaurant has been converted into a Presidential Suite with a connecting room offering sweeping ocean views. The resort's Villa rooms have been updated, and there is a new category called "The Icon Suites."
Operators planned to debut the completed changes with a Nov. 5 live-streaming "SocialCast," in partnership with San Diego-based startup LiveSocialCast, billed as the first such streaming event for a Southern California hotel.
A statement from the startup said the technology allows viewers worldwide to watch events via Periscope, Meerkat and YouTube, and participate via interactive features not found in traditional TV coverage.