iboss Cybersecurity Raises $35 Million in Series A Funding
Tuesday, November 3, 2015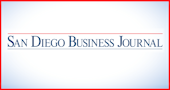 iboss Cybersecurity raised $35 million in series A funding from Goldman Sachs Private Capital Investing, the company announced on Nov. 3. iboss plans to use the funds to expand globally and to develop new products.
The investment from Goldman Sachs marks the first time the company has accepted outside funding. Until now, Peter and Paul Martini owned 100 percent of the San Diego business. The brothers estimate they have turned down institutional investors at least six times.
Goldman Sachs will hold a minority stake in iboss and Stephen Kerns, vice president with Goldman Sachs Private Capital Investing, will join the board.
The business expects revenue of $50 million this year. Over the past three years, the business has grown more than 1,800 percent, the company said, adding that it has been profitable since its inception.
Clients include Xerox, Sears, Urban Outfitters and the U.S. Department of the Interior.
The business recently opened a 43,000-square-foot headquarters in the University Towne Center neighborhood in a building that formerly housed the SAIC data center.