SDSU vs. USD Basketball Game to be Played at Petco Park
Sunday, May 31, 2015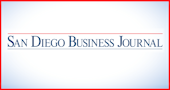 Petco Park will host its first basketball game this winter, the San Diego Padres said Friday, with San Diego State University and University of San Diego teams facing off at an outdoor court built on the baseball stadium's infield.
The SDSU Aztecs and the USD Toreros will play Dec. 5 in what has become an annual tradition for the two teams. They've played each other for 17 consecutive seasons on alternating campuses and played 30 games before that. The only non-campus venue so far was the then-San Diego Sports Arena in 1992.
"Petco Park has been a versatile facility that has taken on different shapes and sizes in recent years, from a tennis court to a Supercross course," Padres President Mike Dee said.
The basketball court will run from third base to home plate with about 3,300 bleacher seats filling up most of the remaining infield. Seating capacity for the game will be about 20,000. Padres members will have early access to tickets, along with the schools' season ticket holders and club members. Prices will run from $10 for students to $75 for the on-field bleachers. Courtside seats will cost $200 to $350.
The Aztecs have won 12 of the last 17 games against the Toreros, including all of the last nine games. The teams are in different conferences.