BIOTECH: FOOD PRODUCTS, SUPPLEMENTS ARE OPTIONS
Sector Shifts as Biofuel Is Running Out of Gas
Friday, May 29, 2015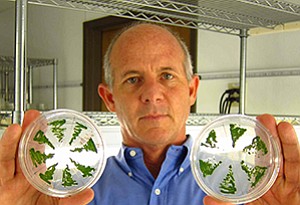 Let's be honest, biofuel was a bit of a bust.
San Diego's pioneering geneticist J. Craig Venter called it back in 2012 during an investor forum when he flatly declared biofuels dead.
"It doesn't matter what the scientific breakthroughs are, there's no way to beat oil," he told the audience.
This was a somewhat unexpected — and disappointing — realization for the industry, especially here at home. San Diego is a mecca for biofuel research due to its high concentration of algae-based biotechs. Many of those companies are now diversifying or completely abandoning biofuel research in pursuit of profits and a sustainable business model.
"Rumors of the clean-tech demise are exaggerated, but I do think that the industry has shifted," said Martin Sabarsky, CEO of algae firm Cellana Inc. "To the critics' point, I think going after a rifle-shot approach — all biofuels all the time — is something that is increasingly difficult to do."
That's because biofuel, which burns renewable sources such as plant oil, cannot compete dollar for dollar with crude oil and its byproducts.
"Petroleum is an extremely low value commodity; it's cheaper than milk," Sabarsky said. "It's really hard to get your costs down low enough to make a profit on that."
Steve Mayfield, founder of Sapphire Energy and director of the California Center for Algae at the University of California, San Diego, said that the money is in nutrition. While oil from algae can be burned for fuel, the green goo also produces nutritional co-products such as Omega-3 oils and proteins. These products can be added to animal feed, human supplements and even baby formula.
"So you could sell a gallon of biofuel for $10, or you could sell a gallon of Omega 3 oils for $200," Mayfield said. "I guess you could still burn the oils if you really wanted to, but it would be like burning a fine wine for its ethanol. You would never do that."
Profits in Co-Products?
These high-value co-products have attracted nearly every algae company in San Diego.
General Atomics, a mega defense contractor specializing in nuclear physics, recently conducted a cost analysis for the production of biofuel and found the financials wanting. A profitable biofuel business was not in the cards, so the company ditched its program entirely.
"In the end, it's always about yield," said John Parmentola, senior vice president of GA's Energy and Advanced Concept Group. "At what price point can I make a buck? Unfortunately, it's not there for algal oil."
Prev Next