National University Receives $20M Donation to Support Sanford Education Programs
Wednesday, May 27, 2015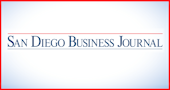 National University announced an anonymous $20 million gift for the national expansion of the Sanford Education Programs. The gift — the largest in the university's history — combined with a 50 percent matching contribution of $10 million from National University, raises the total amount dedicated to initiatives that support PreK-12 student learning and development to $30 million.
According to the university, the $30 million is on top of initial donations of $10 million from last year that provided seed money to establish the expansion of initiatives that are administered through the Sanford Education Center at National University. The center's initiatives include the Sanford Institute of Philanthropy, dedicated to increasing the fundraising capacity of nonprofits, as well as the national expansion of two education programs, Sanford Harmony and Sanford Inspire.
"We are so grateful for this historic gift, which together with previous gifts is creating a truly transformative effect for children and teachers in our schools and classrooms," said Michael R. Cunningham, president of National University and chancellor of the National University System. "We are honored to carry out the vision of Denny Sanford, whose impact on society will last for generations."
The $30 million is focused on two of the initiatives, the research-based Sanford Education Programs that are available at no cost to schools and districts. They are now being rapidly expanded nationally through the leadership of National University and its Sanford Education Center, the university said.
The Sanford Harmony program strengthens social and emotional development among PreK-6 children. Sanford Inspire (PreK-12) recognizes that inspirational teaching is critical to student success. Through its no-cost online learning modules and curriculum resources, Sanford Inspire provides educators with access to research-based teaching methodologies and approaches designed to create inspiring classroom experiences.
According to National University, its Sanford Education Programs are estimated to serve more than 50,000 teachers, and as a result, impact more than 650,000 Pre-K through 12th grade students by their fifth year of operation.
National University is the second-largest private, nonprofit institution of higher education in California — with 30,000 students and more than 140,000 alumni, according to the school.
National University is the flagship institution of the National University System.