Japanese Firm First to Use Qualcomm's Sense ID Platform
Tuesday, May 26, 2015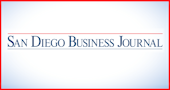 NTT DOCOMO Inc., Japan's largest mobile telecom carrier, will be the first to use Qualcomm Inc.'s Sense ID biometrics platform, Qualcomm said on May 25.
One of the San Diego company's most sophisticated processors, the Snapdragon 810, supports the technology.
Qualcomm (Nasdaq: QCOM) said that it anticipates DOCOMO will launch its online authentication service with smartphones from Sharp and Fujitsu on May 28. More services will be available in the winter.
"With the Snapdragon Sense ID biometrics platform, DOCOMO has provided customers with a solution that is designed to address the inherent limitations of passwords and pin codes," Qualcomm said in a statement.
NTT DOCOMO bills itself as Japan's largest mobile service provider, with more than 65 million customers.