TECH: VFORUM'S VERSATILITY, VIGILANCE ARE SELLING POINTS
Training Platform Lets User Plot Course
Friday, May 22, 2015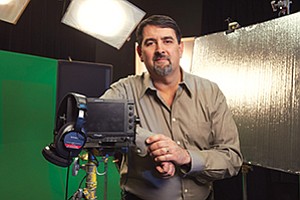 It was originally meant for sailors at sea, but some locally developed video training technology has left the confines of the big gray ship.
Lessons produced by Digital OutPost — often converted from original slide shows or lectures — have since become available as video on mobile devices. Today the Carlsbad business is looking far beyond the world of gray ships, targeting commercial clients in general and their human resource departments in particular.
Digital OutPost — whose core business is video production, post-production and compression — has named its video-based learning platform Vforum. It sells it as software as a service, and touts its ability to deliver a message to its end-user securely.
"We started on PCs with CD-ROM and now we are HTML5 on mobile devices," company CEO and partner Brian Douglass said.
Businesses are increasingly attracted to ways that let people learn on mobile devices, Douglass said, adding that m-learning can save businesses time.
"Many times organizations will pull sales reps out of the field for one- or two-day training sessions," he said. "With Vforum, they can keep their sales force working in the field, but still bring them up to speed on the company's training materials."
One commercial client is Zimmer Dental Inc. of Carlsbad, which uses Vforum to let a dispersed sales force see all-hands meetings.
Cooking up Code
Digital OutPost engineers created Vforum from scratch, and all coding is proprietary. Lessons are available on desktops in addition to tablets and phones running Android and iOS. The technology lets a student leave his or her lesson at one point, and pick it up at the same point on another format later.
The back end of the system keeps an eye on all users and provides user metrics to customers. For example, Vforum can offer a human resources department evidence that employees have received required training on certain topics. A new quiz feature engages the subject at regular intervals; it also helps to ensure that the trainee doesn't just turn on the video and walk away for an hour.
The original client for the training technology was SPAWAR — the U.S. Navy's information technology command — which started using CD ROMs produced by Digital OutPost in 2001 to offer very technical classroom training at sea. At the time, Douglass recalled, the Navy was using unique, "stovepiped" software for different systems.
Part of the problem of conventional training was sailors did not retain information very well. An advantage of video lessons was that the videos were searchable.
That concept hasn't changed, though Digital OutPost has advanced far past the CD ROM format. Users could punch in key words to search the text or the voice content.
The military is still a client. When a reporter visited Digital OutPost's Loker Avenue office recently, company technicians were editing presentations by senior enlisted members of the U.S. Marine Corps and converting them to the Vforum format. The finished product will be 30 to 40 hours long, and given to newly minted Marines after they complete basic training.
Other clients have included the National Library of Medicine, the U.S. Army's recruiting command and JIEDDO, the joint military command charged with countering the crude roadside bombs encountered in Iraq and Afghanistan.
Digital Outpost has 12,000 square feet of office and production studio space, specially configured with computer equipment at the center of the floor plan. It is a dog-friendly office and a guest might encounter Toby or Penny during a visit.
Roots in the Phone Company
Digital OutPost started life as part of GTE when the phone carrier was exploring video. "Video was a futuristic thing" during the early 1990s, Douglass said. He and his three partners bought the business' assets in 1996 when GTE offered to sell. Early work included converting video to CD ROM. (The business' archives still include some materials in Beta format tape.)
There is still a need for committing video to disc format.
Every month, the post office picks up 1,600 discs which go to more than 800 agencies that are part of the California Commission on POST, or Peace Officer Standards and Training. The law enforcement agencies get their lessons on disc because there are still plenty of regions in California that do not yet have high-speed Internet.
The business also automated a manual process to convert video to DVDs, which make their way from a Navy depot to 25 ships and submarines stationed in some of the more isolated regions of the world. Content includes mixed martial arts matches. "It's their television," Douglass said.
Some 60 percent of Digital Outpost's work is for the military, government or police market.
Douglass said he is hoping to get enough interest to create a separate, freestanding Vforum business at some indefinite point in the future.
By then, HTML5 might be old hat. "In 10 years, the dominant technology — the flavor of the day — may be something completely different," Douglass said. "The point is that we will modify Vforum features and benefits to any future platform."