THEATER: LOCAL OPENING PART OF TREND OF HIGH-END AMENITIES
Luxury Cinemas Try to Make You an Offer You Can't Refuse
Friday, May 22, 2015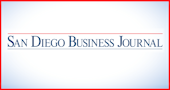 San Diego County movie theaters are increasingly going upscale, with operator Reading International Inc. joining the fray by converting its Carmel Mountain Ranch location to an affiliated luxury brand known as Angelika Film Center & Café.
Operators said the 12-screen boutique theater is set to open in late July 2015, following renovation of an existing theater operated by Los Angeles-based Reading for the past 20 years at Carmel Mountain Plaza near Interstate 15.
It will sport its own versions of several luxury features brought to the local market during the past three years by competing chains, such as Cinepolis Luxury Cinemas, ArcLight Cinemas and Regal Entertainment Group, aimed at pulling high-spending cinephiles away from DVDs and streamed video watched on big-screen TVs from their living-room couches.
Operators said the deluxe trappings at Angelika will include reclining seats in a stadium setting, wall-to-wall screens and the latest high-tech digital projection by Barco. The lobby, mezzanine lounge and outdoor patio are being redesigned by Fred Dagdagan, a Los Angeles designer of screening rooms for major Hollywood studios.
A Night in the 'Museum'
"Some parts of it will almost be like a museum — you'll turn a corner and come across something that surprises you," said Terri Moore, a San Diego native and Reading International's vice president of operations.
The theater will feature reserved seating, allowing customers time to schedule their moviegoing and stop beforehand for a leisurely bite at the cinema's café. The auditoriums will show a mix of independent and mainstream fare, and will be designed as "black boxes" that minimize sound and lighting disruptions for film-watchers.
Supporting Roles
"People still want to get out of the house and have a shared experience," Moore said. "We still believe there's great demand out there for the experience of watching a film together in a large place filled with other people."
Angelika is scouting sites but has not announced other locations planned for the local market. However, following prior openings in demographically friendly neighborhoods like Carmel Valley, Carlsbad and University Towne Center, other operators have more boutique theaters on the way.
In Carmel Valley, owner Donohue Schriber's planned $50 million expansion of Del Mar Highlands Town Center includes a four-screen expansion of the retail center's existing Cinepolis, which will bring its total to 11 screens.
On Fay Avenue in La Jolla, developer Adolfo Fastlicht has a seven-screen luxury theater under construction called Boffo Cinemas, set to open in late summer or early fall. Also, locally based Backlot Hospitality, a separate entity led by Fastlicht, plans by late autumn to open a six-cinema movie house in a new venue called The Lot at Liberty Station in Point Loma, geared to art-oriented offerings, following renovation of the historic Luce Auditorium.
Those venues are following the December 2014 opening of a 12-screen, luxury-oriented cinema in Carlsbad by Regal Entertainment, the nation's largest movie theater chain, at the recently renovated Westfield Carlsbad retail center. That debut came after AMC Entertainment Inc., the second-largest U.S. operator, completed luxury renovations of its La Jolla and Chula Vista theaters in 2013 and 2014.
Bringing back movie fans increasingly prone to watching films at home rather than theaters is also a big goal for Angelika and its competitors. According to the National Association of Theater Owners, North American moviegoers purchased about 1.26 billion tickets in 2014, the lowest since 1995's 1.21 billion. The 2014 tally was down 6 percent from 2013's 1.34 billion tickets sold.
For theater chains, upscaling the movie experience is increasingly deemed an effective answer to declining attendance, as viewers are siphoned away by streaming video services such as Netflix, Amazon and Hulu, watched on high-def TVs with large screens and high-tech sound systems.
The industry research firm IBISWorld Inc. reports that U.S. movie theater operators saw revenue rise on an annual basis by just 0.5 percent from 2009 to 2014, and things are not projected to get much better for the five years ending in 2019, at 1.4 percent annual growth. Operators' profit margin on $14.9 billion in 2014 revenue was extremely thin, at just over 4 percent.
In response, IBISWorld said cinema operators are concentrating their screens in fewer but larger megaplexes, where costs can be spread over higher admissions and concessions sales. Exhibitors are also upgrading screens and auditoriums with digital projection systems and stadium-style seating.
Food and Beverage
For some luxury operators, adding restaurant-quality food and beverages can be an effective way to boost revenue and profits. "Alcoholic beverages garner higher mark-ups and can attract consumers that are willing to spend more across the board," IBISWorld noted.
Better technology and services also help justify higher ticket prices at luxury theaters. The costs of upgrades, however, are often prohibitive for smaller independent operators, leading in recent years to nationwide theater closings and increasing consolidation by the large national chains.
Operators said the business model at Angelika, acquired by Reading in 1998, is based on a cultural-community, cinema-buff approach that features independent, foreign, and specialty films, in addition to mainstream commercial movies shown in most megaplexes. Since 1989, the art house-oriented offerings have generally played well in the limited number of markets that have an Angelika location, including New York City, Dallas, Washington, D.C., and Fairfax, Va.