New Innovation Space Means Business When Selecting Startups
Friday, May 15, 2015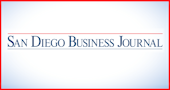 The Qualcomm Institute is launching a new innovation space at the University of California, San Diego with the capacity to house 15 to 20 seed-stage startups.
Unlike similar programs equipped with laboratories and office space for rent, the 6,000-square-foot Qualcomm Institute Innovation Space is not an incubator, said Ramesh Rao, director of the Qualcomm Institute. And it's not limited to UC San Diego students.
"We don't take equity (in startups) and we don't run mentoring programs," Rao said during the institute's recent open house. "The real goal is to pump more companies into the San Diego community."
Although students can apply to the program, the Innovation Space is also available to qualified faculty startups, industry partners or national laboratories.
Making Connections
The Innovation Space, housed on the second floor of Atkinson Hall, connects companies with students, scientists and technologies at UC San Diego. It also connects startups to resources available through the
California Institute for Telecommunications and Information Technology (Calit2), of which The Qualcomm Institute is a division.
Most sites on campus are subject to intellectual property policies that would give the school rights to anything developed on campus by faculty or students. The Innovation Space is an exception to that rule, said Doug Ramsey, a spokesperson for the institute.
"Historically, faculty doing startups had to rent space off campus, so it was a major disincentive to doing a startup," Ramsey said in an email. "Having a nearby space, where Sinopia (a biotech) can rub shoulders with other experts in systems biology, and maybe hire students to work on projects for the company, suddenly makes it much easier for a professor to launch a startup."
Quality Control
Tenants of the Innovation Space must go through a rigorous selection process to lease a spot for a maximum of two years, after which they are expected to exit the facility to make room for newcomers.
"Our goal is to nurture these companies by helping them leverage the state's investments in science and innovation and help with California's economic development when they move off campus," Rao said in a statement.
While the space is open to outside companies, half of the initial tenants are startup ventures led by UC San Diego faculty, staff or students — including professor-led Sinopia Biosciences.
Sinopia Biosciences is a startup spun out of UC San Diego bioengineering professor Bernhard Palsson's research group for "systems biology." Co-founder Aarash Bordbar is a recent graduate and the former president of the Bioengineering Graduate Society at UC San Diego.
Sinopia applies biology and bioinformatics to study how drugs work in the body. By analyzing high-throughput data sets for biomedical problems, the company's predictive platform may help them identify signature characteristics in genomic data that correlate with adverse drug reactions.
"We believe these computational approaches position us to quickly develop novel experimental and clinical strategies that would have been daunting to devise otherwise," Bordbar said.
Six other companies have joined the Innovation Space: Comhear, Foundation for Learning Equality, RAM Photonics, STEAM Engine,
Technosylva and VirBELA.
Options for Entrepreneurs
The opening of the new Innovation Space follows the Feb. 6 debut of "The Basement," a combined incubator and accelerator program for startups launched by undergraduate students on campus.

Other support for entrepreneurial-minded students can be found at UC San Diego in the Jacobs School of Engineering, at the Moxie Center for Student Entrepreneurship, the von Liebig Entrepreneurism Center, and in the Rady School of Management at StartR, a nonprofit accelerator program for business students and alumni.
UC San Diego-affiliated entrepreneurs also can seek funding from the Triton Technology Fund, established just over a year ago, and the $250 million UC Ventures Fund, approved in September by the UC Regents.
Contact Brittany Meiling at bmeiling@sdbj.com or 858-634-4625.