Sanford-Burnham, Eli Lilly Announce Collaboration
Thursday, May 14, 2015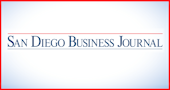 San Diego's research community has attracted a new Big Pharma partner.
Sanford-Burnham Medical Research Institute will collaborate with Eli Lilly and Co. to develop immunological therapies, the companies announced Thursday.
The research partnership is driven by Lilly's expertise in immunology and Sanford-Burnham's experience with fundamental cellular pathways regulating the immune system. The pair will focus on developing treatments for immunological diseases such as lupus, Sjögren's Syndrome, inflammatory bowel disease and other autoimmune disorders.
"The Lilly-Sanford-Burnham collaboration is precedent-setting in scope and its potential to advance discoveries to the patient more efficiently," said Sanford-Burnham CEO Perry Nisen. "By combining the deep knowledge of human biology and disease mechanisms among Sanford-Burnham scientists, in particular our expertise in the field of checkpoint regulators in the immune system, and Lilly's leadership position in the development of biologics and large molecules, we are forging the path to develop the next generation of transformative treatments for autoimmune disease."
The research collaboration will be co-chaired by Thomas Bumol, senior vice president, biotechnology and immunology research at Lilly, and Carl Ware, director, Infectious and Inflammatory Diseases Center at Sanford-Burnham.