San Diego County Credit Union Reports $6.9B in Assets
Thursday, May 14, 2015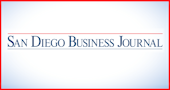 San Diego County Credit Union's total assets grew to $6.9 billion in the quarter ending March 31, a 6 percent increase from the same period last year, the credit union said Thursday in its earnings report.
SDCCU membership grew nearly 9 percent this quarter compared to last year, with more than 286,000 customers.
The credit union's net-worth-to-assets ratio, a measure of the strength of an institution's capital, was 13.43 percent, nearly double the 7 percent minimum for well-capitalized credit unions under the National Credit Union Administration.

SDCCU is the county's largest locally-owned financial institution, the credit union said.