BIOTECH: ECO-FRIENDLY DISCOVERY COULD HAVE MULTIPLE APPLICATIONS
Discovery May Give Company The Silver Bullet for Biofilm Fight
Friday, May 8, 2015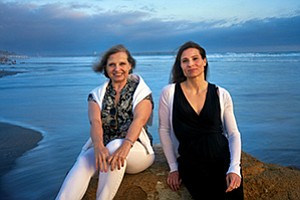 Biofilm could be described as a bulletproof vest for bacteria.
A local marine biologist has taken a shot at finding a nontoxic way around that protection. And she may have found it in marine organisms.
The discovery has the potential to impact dozens of industries. The challenges may be to get people to understand the science and the far-reaching impacts of her findings.
Cynthia Burzell, 35, is founder and president of Aequor Inc., a two-person firm whose name is derived from the Latin word for "the sea." Burzell began studying marine life while earning a doctorate in microbiology at St. George's University on the Caribbean island of Grenada.
She hypothesized that something in the marine environment was preventing the settlement of bacteria. Otherwise, she reasoned, everything underwater would be contaminated, covered in bad bacteria, barnacles and algae.
Big Discovery
She wondered what marine organisms were excreting that prevented this contamination, so she collected surface slimes, analyzed them and extracted microbes. She discovered an entirely new genus, which she named after her mother, Marilyn Bruno, who is the CEO of Aequor. She also discovered a slew of new species.
Burzell found that one of these microbes produced a chemical, which she later called "knownium," that broke down the protective dome that shields bacteria from attacks. This protective layer is called "biofilm."
People come in contact with biofilm every day. Tooth plaque, clogged drains and slippery rocks in rivers are all examples of biofilm at work.
Biofilm is the reason bacteria are so obstinate. It's the reason for diseases like cystic fibrosis and hospital-related infections. It causes fouling on the hulls of ships so difficult to eradicate that companies must scrape away the buildup just like dentists scrape plaque from your teeth.
Today, we react to harmful bacteria with antibiotics, antibacterials and biocides, hoping to kill off the dangerous microbes with heavy doses.
These solutions often come with negative consequences of their own. Antibiotics and similar drugs have greatly reduced illness and death, but their widespread use has resulted in the creation of drug-resistant superbugs.
Fighting biofilm in a nontoxic way also has applications outside of health care. Most biocides used to prevent fouling on ships are toxic to the environment, and popular products like Tributyltin (TBT) found in ship paints to protect the steel and machinery have been banned in many countries, including the United States.
"The top biocide industry players are looking for alternatives," Bruno said. "None of them have efficacy against biofilm, and all of them are highly toxic," she said.
Enter Aequor's ocean chemical that can break down the biofilm in what it says is an eco-friendly way.
Multiple Applications
"Aequor's discovery of a nontoxic solution to the problem of biofilm is very exciting," said Donald Bosseau, an expert in biophysics who has experience in bacterial sterilization for medical and food safety and agribusiness. "Aequor's main chemical has broad uses in industrial, medical, and household applications — wherever bacteria are found."
Lonza Group, a multibillion-dollar Swiss chemicals and biotechnology firm, tested Aequor's lead chemical with a common and dangerous pathogen that causes staph infections.
Lonza found that Aequor's chemical worked just as well as a lethal dose of Penicillin (1,000 times the dose tolerated by humans).
"Nothing else known can do this at nonlethal doses," said a spokesperson for Lonza.
Aequor's chemical has grabbed the attention of some of the largest chemical companies in the world, including Dow Chemical Co., BASF, AkzoNobel, Kemira, Lonza, and EcoLab Inc. A few of those companies have signed an agreement to test how the chemical works in some of their products, but due to nondisclosure agreements, Bruno could not identify them.
One relationship she could speak of was a relationship between Aequor and Cubist Pharmaceuticals, a large anti-infective company.
"We had this gorgeous agreement with Cubist," Bruno said. "The terms were unbelievably favorable towards us. They were going to do all of the pre-clinical trials in exchange for the first right of negotiation."
Rumors of Cubist's takeover stalled plans to move forward with the agreement, and late last year, Cubist was acquired by Merck & Co. Immediately after the acquisition, Cubist's entire research and development team was laid off, and discovery operations in San Diego were halted.
While Aequor searches for the funding to move forward, Bruno is crusading across the country, bringing the mostly unfamiliar topic of biofilm to government officials, chemical companies and health care institutions.
Bruno has been invited to speak at the International Space Station's Research and Development Conference, the American Chemical Society's Green Chemistry and Engineering Conference and the Biotechnology Industry Organization's conference on industrial biotechnology.
She even presented to congressmen regarding biodefense and antimicrobial resistance.
"All of the answers are in the ocean," Bruno said. "The role of chemistry is huge underwater. If you want to live, it's your only protection."