BIOTECH: DRUG COS., OTHER FIRMS FIND WAYS TO FACE WATER SHORTAGE
A WEAK PIPELINE
Friday, May 1, 2015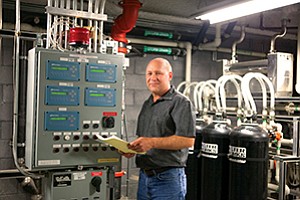 It takes a lot of water to make a drug. Good, clean water.
It's a resource that could become increasingly scarce — and prohibitively expensive — in San Diego as the state gets ready to mandate conservation levels in response to a years-long drought.
What the State Water Resource Control Board comes up with this week is of great interest to San Diego's water-dependent life science industry, which generates an estimated $36.6 billion in economic activity to the county, according to BIOCOM, the industry's most prominent trade group.
Businesses are now encouraged to use recycled water, but the life science industry — and others reliant on high quality water — can only do so much with the impure water pumped through the city's recycled water system.
The life science industry is dependent on a steady stream of highly purified water to feed and sanitize an ecosystem full of sensitive experiments and lab work. A disruption in water availability could interfere with drug development and delay timelines, according to industry experts.
Dealing With Drought
Water availability has been a top concern for the life science sector for decades. In fact, BIOCOM was born out of the last major drought during the 1990s. During the height of that historical dry season, a handful of biotech CEOs in the region gathered in a boardroom to discuss the impending water restrictions and the potential impact on manufacturing operations.
"We decided that this would be a disaster for the biotech industry in San Diego, and that we needed to try to do something about it," said David Hale, co-founder and a board member of BIOCOM, on the trade group's website.
Happily, a miracle came in March when unexpected rains refreshed water reserves and prevented rationing measures.
The biotech executives realized the value of working together, and they eventually formed BIOCOM to represent the life sciences sector.
BIOCOM and the San Diego City Council together developed the Guaranteed Water for Industry Program in the late '90s to address concerns about mandatory water restrictions in the event of a future drought.
Through the program, companies can work with the city to gain access to reclaimed water through the city's recycled water system. This partially treated wastewater is distributed through a network of pipes easily identifiable by their characteristic purple color.
When companies use reclaimed water to the extent possible for their industry, they can be exempt from future mandatory water restrictions.
Prev Next