BIOTECH: DRUG COS., OTHER FIRMS FIND WAYS TO FACE WATER SHORTAGE
A WEAK PIPELINE
Friday, May 1, 2015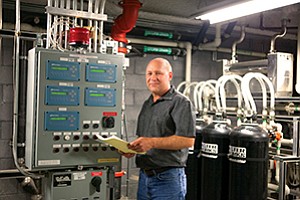 It takes a lot of water to make a drug. Good, clean water.
It's a resource that could become increasingly scarce — and prohibitively expensive — in San Diego as the state gets ready to mandate conservation levels in response to a years-long drought.
What the State Water Resource Control Board comes up with this week is of great interest to San Diego's water-dependent life science industry, which generates an estimated $36.6 billion in economic activity to the county, according to BIOCOM, the industry's most prominent trade group.
Businesses are now encouraged to use recycled water, but the life science industry — and others reliant on high quality water — can only do so much with the impure water pumped through the city's recycled water system.
The life science industry is dependent on a steady stream of highly purified water to feed and sanitize an ecosystem full of sensitive experiments and lab work. A disruption in water availability could interfere with drug development and delay timelines, according to industry experts.
Dealing With Drought
Water availability has been a top concern for the life science sector for decades. In fact, BIOCOM was born out of the last major drought during the 1990s. During the height of that historical dry season, a handful of biotech CEOs in the region gathered in a boardroom to discuss the impending water restrictions and the potential impact on manufacturing operations.
"We decided that this would be a disaster for the biotech industry in San Diego, and that we needed to try to do something about it," said David Hale, co-founder and a board member of BIOCOM, on the trade group's website.
Happily, a miracle came in March when unexpected rains refreshed water reserves and prevented rationing measures.
The biotech executives realized the value of working together, and they eventually formed BIOCOM to represent the life sciences sector.
BIOCOM and the San Diego City Council together developed the Guaranteed Water for Industry Program in the late '90s to address concerns about mandatory water restrictions in the event of a future drought.
Through the program, companies can work with the city to gain access to reclaimed water through the city's recycled water system. This partially treated wastewater is distributed through a network of pipes easily identifiable by their characteristic purple color.
When companies use reclaimed water to the extent possible for their industry, they can be exempt from future mandatory water restrictions.
According to promotional material for the program released by the Mayor's Office of Economic Growth Services, "For San Diego, the most valuable industries are water-intensive manufacturing operations such as those producing pharmaceuticals, semiconductors and circuit boards. Research and development operations also have a high fiscal and economic value to the city and are significant water users due to their laboratory and data-center cooling systems. These industries need assurances that they will not be subject to future cut-backs or other mandatory conservation measures."
But in the last two decades, only four companies have joined the program: Johnson & Johnson, BD Pharmingen, Illumina and Alere Inc. Representatives from the city of San Diego were not available to comment on the status of this program.
Early Adopters
Whether it's to save money on the utility bill or conserve an increasingly rare resource, the life science sector is finding new ways to make better use of their water.
"Biotech and pharma companies have long been leaders in the adoption of technologies such as water recapture and recirculation systems for water intensive machinery such as cooling towers," said a spokesperson for BIOCOM.
The Sanford-Burnham Medical Research Institute has been a trailblazer in water conservation for years, according to John Wammes, the president and CEO of Water Works Inc., a water purification company in San Diego.
"Sanford-Burnham has done a tremendous job of saving water, and they have a real passion for sustainability," Wammes said in an email. "For San Diego, it would be a shame if we couldn't support the nonprofits such as Scripps Research Institute, Salk (Institute for Biological Studies) or Sanford-Burnham. If you think about it, we could potentially lose the next blockbuster cure if we cannot support local life science due to the drought."
John M. Reed, the maintenance manager at Sanford-Burnham, said he's been working to reduce the institute's consumption of water for the last 10 years.
Much of the institute's water use revolves around laboratory work that requires highly purified water. In fact, the Food and Drug Administration requires drug developers to only use water that's been approved for drinking by the U.S. Environmental Protection Agency. As a result, Sanford-Burnham and other life science companies can only use recycled water for irrigation and cooling systems.
Sanford-Burnham replaced its once-tropical landscaping with drought-resistant plants, and then irrigated the land with recycled water, Reed said. The institute recently converted one of its cooling towers, which uses about 1.5 million gallons of water per year, to run completely off recycled water.
Altogether, Reed said that recycled water makes up about 25 percent of the institute's total water usage. This amounts to tremendous savings on the institute's utility bill as the city's potable water currently costs $4.47 per unit (748 gallons), while the city's recycled water costs only $0.80 per unit, according to the city of San Diego.
Side Effects of Saving
There are caveats. Using recycled water in a cooling system can wreak havoc on the equipment if not handled appropriately, said Mike Robertson, general manager of water treatment company RH20 Engineering Inc. Reclaimed water comes from sewage and has high quantities of ammonia — the byproduct of urea in urine. That ammonia can attack the copper tubes inside chillers, which are at the heart of the system that keep buildings cool.
This kind of equipment costs millions of dollars, Robertson said, and using reclaimed water is always a concern.
"There are ways to mitigate the problem though," Robertson said. "You have to feed an extra quantity of a copper corrosion inhibitor to the system to protect the copper tubes. It's a bit expensive, but compared to the cost of city water versus the cost of reclaimed water, it's still economical."
Recycled water cannot replace all potable water in its current state, as it's only partially treated. And using recycled water — even just for cooling and irrigation — is asking a lot of businesses that must integrate into the city's purple pipe system, and then monitor their equipment for signs of corrosion due to poor water quality.
A Natural Resource
However, the city of San Diego is working on a project called Pure Water San Diego. The program aims to purify recycled water to the same standards of potable city water, and has been underway since about 2009 when a feasibility study was conducted on water purification systems.
In November of last year, the San Diego City Council voted unanimously to approve the advancement of Pure Water San Diego.
"The City of San Diego has been working on the Pure Water project for a while now, and with the drought we're seeing lots of interest in fast-tracking the program," said Toby Roy, regulatory manager at the San Diego County Water Authority.
San Diego Mayor Kevin Faulconer traveled to Sacramento on April 28 to chat with Gov. Jerry Brown about water-saving measures during the drought.
He toured Sacramento's water recycling project, which takes treated water from sewage and purifies it for drinking water.
If a similar system is implemented through the Pure Water project in San Diego, Faulconer said it could provide a third of the city's water supply by 2035.
"We had a positive meeting today with Gov. Brown on how best to tackle a statewide drought that is in its fourth year with no signs of stopping," Faulconer said in a statement. "The governor said he would speed up the approval process for projects that increase local water supplies. That's great news for San Diego as we begin work on the largest water recycling program in the state and create our own independent, drought-resistant water supply."
Until recycled water is purified to higher standards, the life science industry is working to find out what works for water conservation.
"There's no easy solution or quick fix to water reuse or water savings," Wammes said "Discussing or learning from others in the industry about what works and what doesn't is key."