MEDICINE: OPENS DOOR FOR RESEARCH, BUSINESS PROSPECTS
New Nursing Facility A Big Asset for USD
Friday, May 1, 2015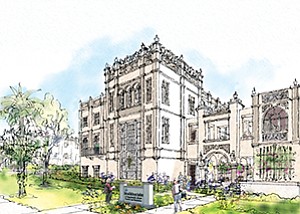 The University of San Diego is building a research facility on campus that will not only benefit faculty and students, but serve as a resource for local health care companies.
Established with an $8 million gift from philanthropists Bob and Betty Beyster, the university's Hahn School of Nursing and Health Science officially broke ground on the $18 million project last summer. The institute was named the Betty and Bob Beyster Institute for Nursing Research, Advanced Practice, and Simulation — or the Beyster Institute for short.
When completed, the institute will be a 30,000-square-foot, three-story building connected to the current nursing school by a bridge and plaza.
High-Tech Health Care
"Our new building is truly designed to prepare the next generation of nurse scientists, educators, executives and advanced practitioners," said Sally Brosz Hardin, dean of USD's nursing school.
The facility will be outfitted with new technology and tools that will advance nursing research and encourage corporate collaboration, said Jonathan Mack, program coordinator for the university's health care informatics graduate
program.
The vast majority of the new building will house a high-tech simulation lab designed to look and operate like a nursing unit of a hospital. The lab will include clinic office spaces, a mock intensive care unit and lots of glassed-in observation decks for instructors to observe students.
The simulation lab will be outfitted with multiple video cameras to capture clinical case scenarios for later analysis. The nursing school even hires live actors to role play cases involving injuries and disease, Mack said, which helps nurse practitioners learn how to do physical assessments. Applications of this equipment can extend beyond the classroom and into corporate settings, as well.
Taking Care of Businesses
"What's unique about this facility is the ability for outside organizations, through corporate partnerships, to collaborate with us," Mack said. "We've always had friendly relationships with medical device companies in the area that come in and use our simulation lab, but we're hoping to expand on that."
Local medical device companies such as CareFusion Corp. have used USD's existing simulation lab as a resource during product development, but the new Beyster Institute will triple the available workspace. The hospital setup allows local companies to conduct focus groups and analyze how their equipment might be used in a real-life setting.
"To be able to maintain lab space like this for a company trying to develop a device is quite expensive," Mack said. "So we provide that to companies for a very nominal fee."
The use of the simulation lab is included in corporate partnership packages that vary in price depending on what the company needs.
Besides access to the simulation lab, corporate partners can also use the new institute's innovation labs — spaces designed for collaborative problem-solving. The rooms will be outfitted with modular desks and walls, made to move around easily during corporate brainstorming sessions. The rooms will be stocked with laptops, iPads and LED screens, Mack said.
Corporate partners will have access to a slew of other resources, including corporate education and workshops, and possible collaborations with USD researchers.
The institute, which is set to be completed by August, will also expand the university's research capabilities and relieve some congestion at the Hahn School of Nursing and Health Science.
The current nursing school was built almost 40 years ago and was designed for 100 students. Today, USD has more than 450 graduate nursing students.
The university only offers graduate-level education in nursing, with two master's programs, two doctorates and a progressive health care informatics program.
Mack said having expanded laboratory space in the Beyster Institute will allow the 15 researchers on staff to pursue more government grants.