SmartDrive Systems Raises $50 Million in Venture Funding
Originally published March 31, 2015 at 3:08 p.m., updated March 31, 2015 at 3:08 p.m.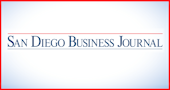 SmartDrive Systems said on March 30 that it raised $50 million of additional venture funding.
The San Diego company makes a video-based driver safety product for businesses that operate fleets. SmartDrive said it planned to use the new money to finance its global expansion.
Some $20 million came from Belgium-based WABCO, which signed an agreement to integrate next-generation video-based analytics solutions for commercial vehicle fleets worldwide. Also contributing to the funding round were Oak Investment Partners and New Enterprise Associates.
SmartDrive said it achieved record growth in 2014 but did not say how much.
The business also said that it now employs more than 400 people worldwide.