Region's Economy Continues Upswing, USD Index Shows
Tuesday, March 31, 2015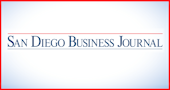 The University of San Diego economic index rose for the ninth straight month in February, with six out of six components advancing for the second month in a row.
The index of leading economic indicators for San Diego County rose 1.3 percent to 136.0. The index is a project of Alan Gin and the university's Burnham-Moores Center for Real Estate.
Help-wanted advertising was the most robust of the six, gaining 2.38 percent, while initial claims for unemployment insurance fell 2.46 percent (the latter figure is inverted, since falling unemployment claims mean a rising economy). Building permits increased 1.58 percent, consumer confidence rose 0.68 percent, the national economy rose 0.49 percent and local stock prices rose 0.31 percent.