Black Mountain Systems Acquired by Stone Point Capital
Tuesday, March 31, 2015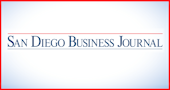 Black Mountain Systems, a San Diego-based software company that caters to asset managers and financial institutions, has been acquired by Stone Point Capital, a private equity firm.
Executives for the companies said the deal creates tremendous value because it combines Black Mountain's Everest software platform with Stone Point's relationships and expertise in financial services.
"We were very careful about making this decision, and I firmly believe that Stone Point is the best partner we could have chosen to position Black Mountain for its next chapter," said Andy Horwitz, Black Mountain's co-chief executive officer.
SunTrust Robinson Humphrey acted as financial advisor to Black Mountain Systems.