Nominations for the 2015 General Counsel Awards Now Open
Monday, March 30, 2015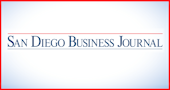 The San Diego Business Journal is now accepting nominations for the 2015 General Counsel Awards, which recognizes excellence in the In-House counsel community. The General Counsel Awards showcases legal heroes in our community who exemplify traits that all In-House Counsel strive to attain and hone – measured and trusted judgment, legal and business acumen, vision, and leadership.
The awards program is slated for Thursday, June 18, 2015 and will recognize finalists and winners in various categories, including public company, privately-held company, nonprofit company and rising star.
If you know a general counsel who has made significant contributions to the success of their companies and to the profession, nominate them today! Deadline for nominations is May 4.
Gold sponsors for the program are Abacus Data Systems and Ogletree Deakins, bronze sponsor is Sughrue Mion PLLC.
To nominate online: http://www.sdbj.com/bizevents/. For additional information, contact the events department at 858.277.6359.